Hello there,


I Love Christmas
---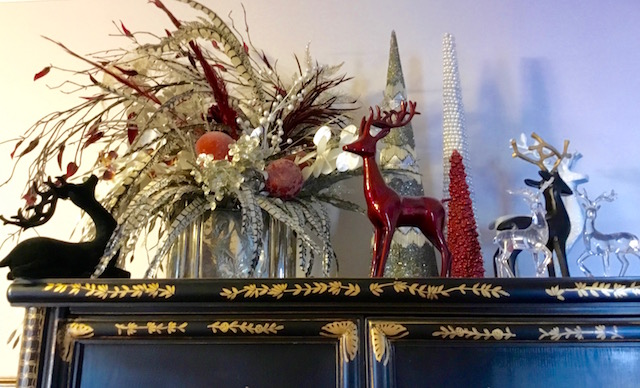 ---
" December, the diamond-frosted clasp linking twelve jewelled months to yet another year."
Phyllis Nicholson English country memoirist
---
---
It's the time of year when sunsets are glorious,
fooling us into thinking winter is still far off.
---
Photo credit: Jen Bird
---
---
And then, the sky turns dark and we know snow is on the way.
---
---
Beautiful isn't it?
---
This is why we leave our gardens standing for winter.. In one day, the garden can go from green in the afternoon and covered with snow overnight
… little birds and tiny critters will have no place to take cover if the the garden is bare. There are seed heads for birds and small shelters for other wee creatures.
The end of November when Remembrance Day is over, we begin to create our Christmas and holiday arrangements
- as Lucy supervises.
---
---
I love the festive look and want to see it as I come in from the street or walk out of the house.
---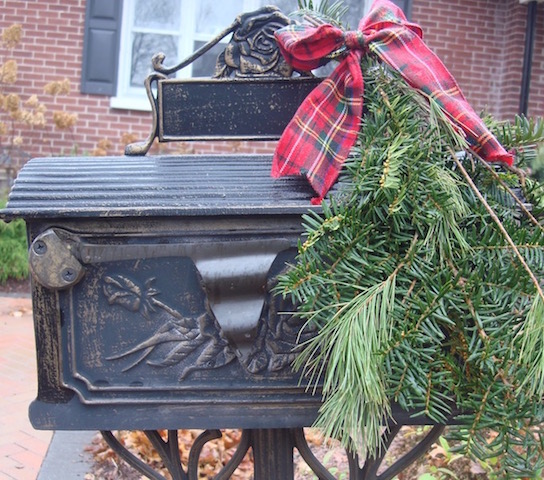 ---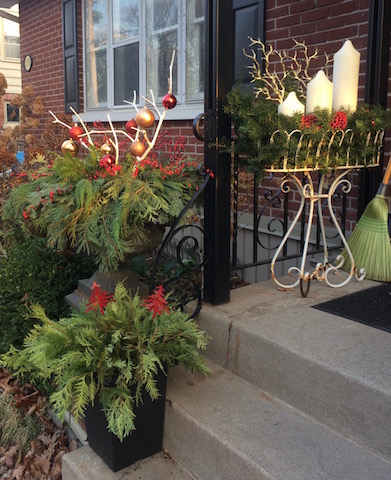 ---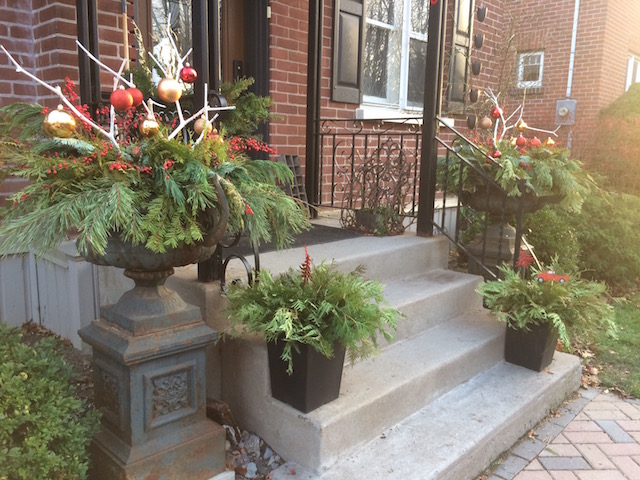 ---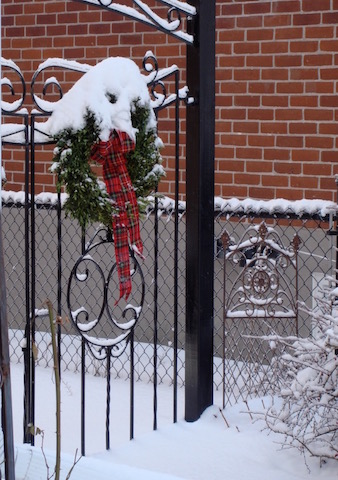 ---
We love to look across the street to see our neighbours lights,
glowing softly in the darkening dusk.
---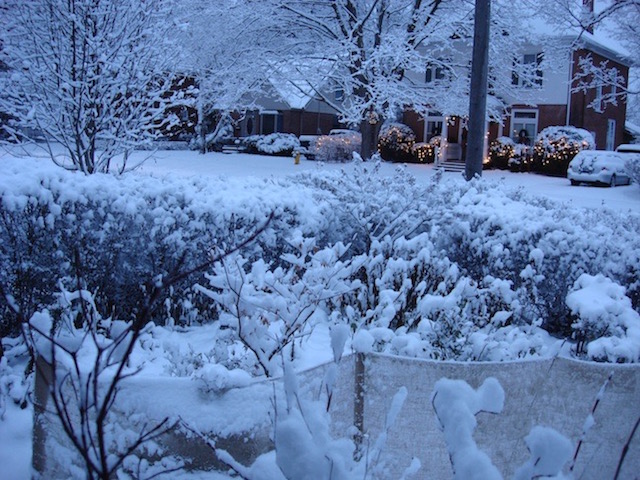 ---
AND - INDOORS
Because we miss flowers in our gardens,
we buy beautiful blooming plants
to satisfy our need for beauty and plants.
Cyclamen is one of those….
big or small they do need a little different care than most.
---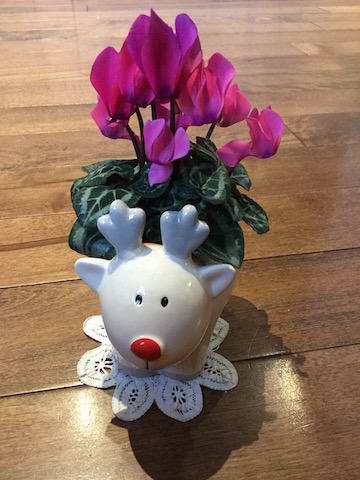 ---
They are sweet, glorious and oh so addicting. I love them in every colour. I'd never had much success keeping them alive so I found some hints from Judith Martin I tore out of an older magazine. (GardenMaking.com)

Cyclamen like moist soil but not wet-they need water when they wilt - and it happens quickly

DON'T water them at the top because their tuber (root) is close to the top of the soil will be overwhelmed and rot.

Every day, or other day, I just lift the pot…. light = dry

I set mine in a small bowl of water and I can actually see the water being absorbed drain it well before you put it back in the decorative pot

Deadheading will give you more blooms

It should go dormant in April when weather gets warmer, meaning it blooms less and some of the leaves turn yellow

Experts then say to cut off all the foliage, put the pot in the dark, water once in awhile and then bring it out in August

But mine never stopped blooming, the leaves stayed green and a year later, it still looks like this… so…

You decide your next step…
---
DECK THE HALLS....
---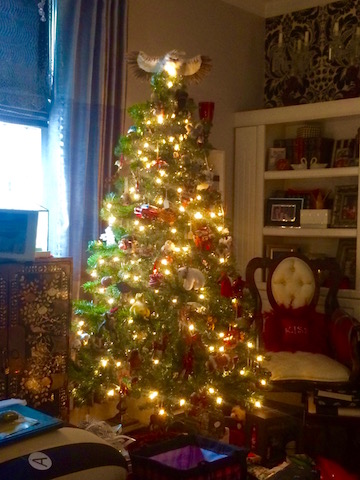 ---
One Christmas, we saw a magazine article with paper garland and we decided we needed (wanted) one too.

We cut out leaf shapes; oak, or oval in white and "newsprint" card-stock and with white floral tape and floral wire attached them together and made garlands

….in fact, we kept cutting leaves and had enough to go down the staircase, across the mantel and down the edges of the bookcases

- it was easy and actually fun - We made the garland in sections so it is easy to put together and easy to store flat till next time.

The first photo is of some of the leaves.

The second, is the back of one of the sections.

The third photo is two of the sections

And the last, is the garland on the staircase.

You can add red ribbons, crystals, white or black bows and red berries...
---
---
---
---
---
If you are like me, I have boxes and bins of Christmas and holiday bits and baubles so I pour a cup of really good coffee and think about a theme..
Reds, plaids and country? We change the pillows to plaid, or sparkles, or reindeer or sometimes all of the above.... I love read so to me, what better theme than RED??
And what about all those NUTCRACKERS from Christmases past?
Here's what we did one year… marched them up the staircase.
---
---
And maybe it will get you in the holiday mood
to get out those Christmas plaid pants
that live in the drawer the rest of the year?
---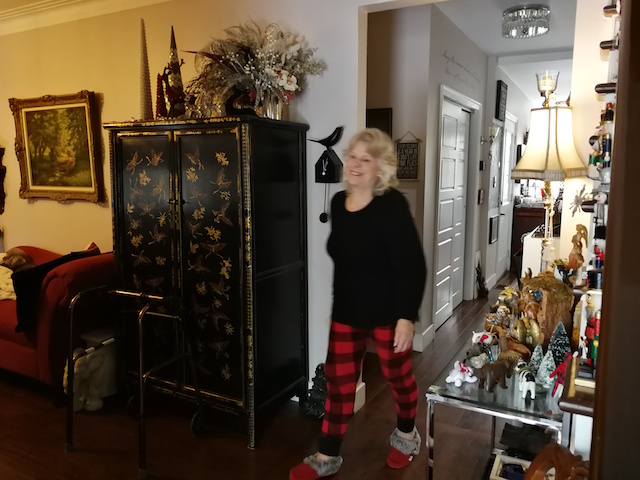 ---
Of course, Lucy likes to be festive too.
---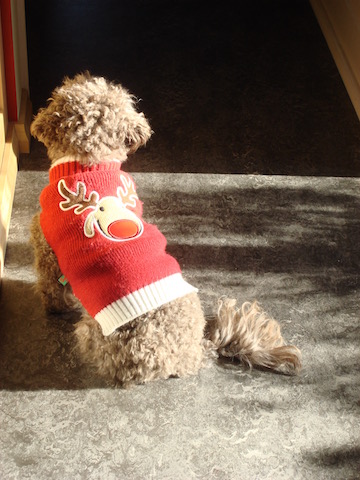 ---
OR, BAKE SOME COOKIES
---
MY MOM'S SHORTBREAD RECIPE
It was her mother's (Amelia Maude McAllister)
passed to my Mom (Noreen Viscoff)
I know she would love to think others were loving them like we do… Enjoy
1 lb. of butter (softened)
5 1/2 cups of flour (approx.)
1 1/2 cups of brown sugar
Cut these all together.
Roll out using icing sugar on the roll-out board
Cut with cookie cutter (or a small drinking glass works too)
Bake at 325
"For a few minutes" - my mother said…
Sorry…. it just means you have to watch them after 6 to 8 minutes
so they don't brown.
Whenever I asked how long it would take to bake something, she'd say "till it's done".
So pour a nice glass of wine and keep your eye on the cookies.
---
ONE of our FAVOURITE CHRISTMAS RITUALS
---
Every year, we look forward to putting up the nativity with all its inhabitants.
On a magical trip to Italy, I found the key players of the stable and a wonderful stable made of bark and moss. Of course, getting it home was a challenge and ended up costing $80 for "additional baggage" - no regrets…
It started with Mary Joseph, Baby Jesus, the cattle and an angel or two and then I found the Wise men, looking very lost at a yard sale…
Then one morning, I was amazed when I looked at the scene and saw Miss Piggy and Kermit the Frog visiting the manger.
Seeing my shock my (little at the time) daughter said… "but Mom, you said anyone can come to the manger"… and of course she is right.
Now we have bears (for my dad - carved wood and one made of iron) an assortment of sheep, an alpaca (for friends Kathy and son Dylan), a camel from Jen's Egyptian friend, a loon (for my mom) a moose, a deer, a zebra, some dogs, a chickadee, a holstein cow and a peacock.
Each and every year another animal arrives and the whole scene needs a bigger and longer table - oh so precious.
---
---
---
AND THEN, PRESENTS....or PRESENCE?
---
I've begun some re-gifting or passing on things my folks gave to me that I want my children to have… a carving my dad made, a rug-hooking my Mom made etc…
And, although I have always dismissed the idea of making a list, I find with family spread across the continent, that it now makes sense...you can add little things like a new sketch book, or a pair of cozy reading socks, or a particular type of pen or pencil... doesn't have to be expensive - more fun if it isn't... there are website that make this easy...
but my favourite, is my 3 year old grandson's request to Santa for BROCCOLI.... I have no words for this one.
How about a rocking horse from one friend I sent to my grandson
…but of course, Lucy had to check it out.
I believe she was glad to see it giddy-up-and go, though.
For the folks who have everything, a letter from you describing how much they mean to you and have meant to you...few of us write words on paper with a pen... we flip off an email and seldom take the time to write.
Do i from your heart, put a stamp on it and mail it.
You could also record yourself reading your grandchild's favourite book... special if you are far away..
---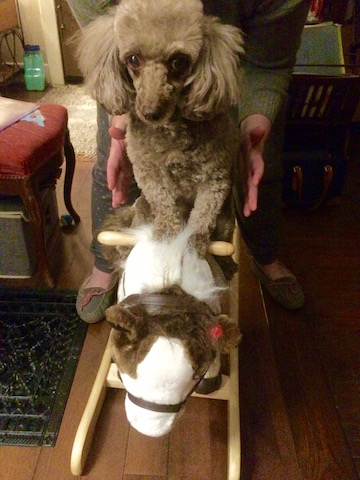 ---
Another way to make gifts personal is to create something
… a small sketch or painting.
Ah, you can't paint?
Print a photo on regular paper, glue it to mat board, a wooden tree decoration or a tiny canvas, give it a spray of acrylic and paint over it…
...your paint strokes will make it a painting.
Like these.... my friend's favourite red books that spark of her personality... or my other friend's little dog who is over the rainbow bridge now and my far away family's lovely home.
---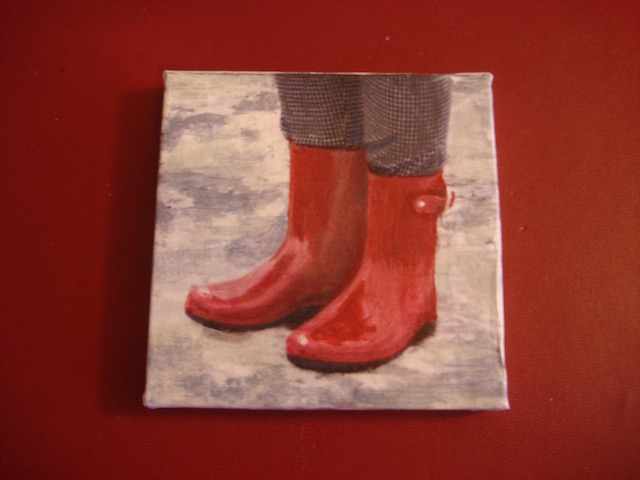 ---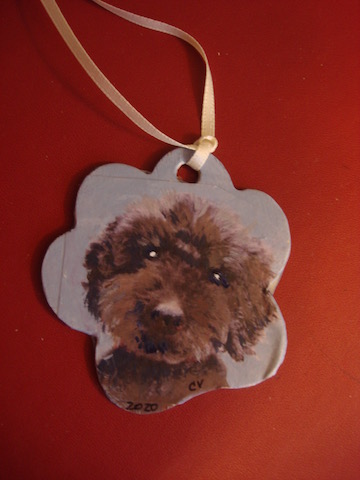 ---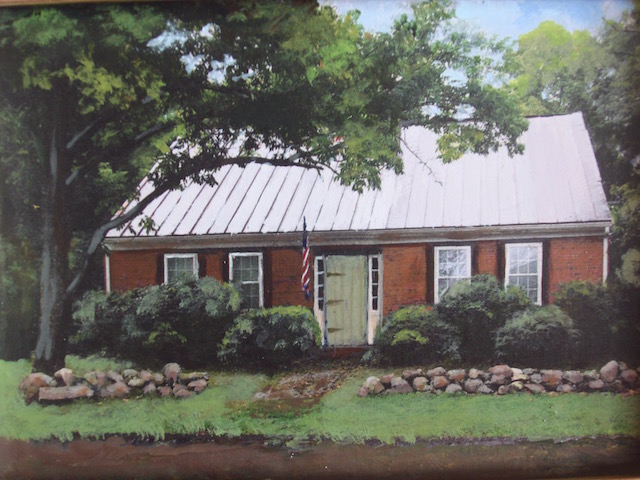 ---
Well, winter is here, in all its glory
and although we cannot sit on the deck
or in the garden, we can admire it.
---
---
---
...and while you are waiting for Santa,
drink your cocoa and be thankful for all you have - no matter the circumstance...
- leave the things you don't have or have lost for another day
because it is not all about us,
...no matter what Lucy says:
---
---
Well, so long till next time....
Lucy and I are going indoors for snacks and cozy shawls.
Stay warm and healthy and take care of each other.
Be kind to those who may not deserve it today but who might need it anyway.
Happy Christmas and whatever holiday you celebrate.
... just be sure to CELEBRATE SOMETHING....or SOMEONE
---
---
---
---
MY BOOK IS IN PRINT...
---
I am so excited !
My Little Bird book is being printed in time for Christmas and Holiday giving.
It's the very true story of a baby bird who fell from his nest,
rescued by a boy, his little sister,
their Mom-Lady (who decided he would live),
and Nana & Papa who helped him fly into the woods.
I cannot wait to share it with you.
if you would like a signed copy,
an 8x10 print of Little Bird,
or even a recording of me reading it to go along with the book,
please send me a note at
birdieboxpress@gmail.com
---
---
---
BOOKS to READ ... now or later
---
Both amazing, intriguing and great reads.....
THE LAST GARDEN IN ENGLAND Julia Kelly Gallery Books - Simon & Schuster - 2021
THE FORGOTTEN GARDEN Kate Morton Atria Books - Simon & Schuster - 2008
---
---
Back Issues for Garden Bliss & Blunder
---
---
---