---

---
---
October Shines
---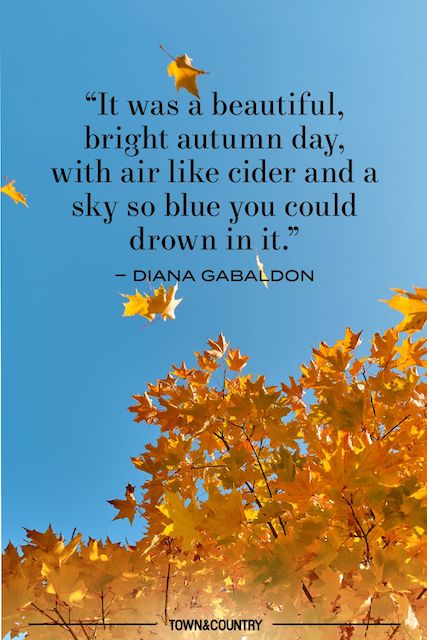 ---
---
"The link between things grows weaker now. The twig can no longer support the leaf, the branch is ready to release its fruit and the ground turns cold against the root. Instinctively we resist these separations, reaching for each other's hand as we walk across the frost-strung grass, then turning quickly back toward home before night drops."
unknown
---
---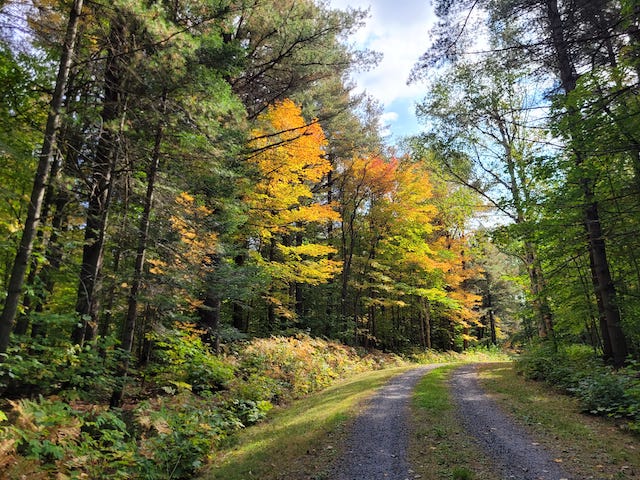 Photo: Jen Bird
---
COLOUR in the GARDEN
---
Some plants just don't quit; Japanese Blood Grass ((Imperata cylindrica), Heuchera, Hydrangea, Sedum and a rose or two are still shining.
---
---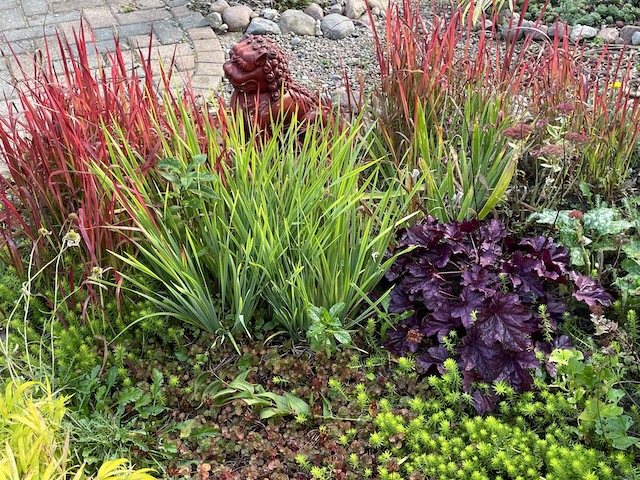 ---
---
Speaking of Roses...
---
Time to stop dead-heading and let the roses form hips…. leave any pruning until spring so all that lovely green (carbohydrates and nutrients) can go down canes to strengthen the roots for winter.

You can prune off obvious dead or very long branches that may break under ice or wind - or snag you or your pet on the way by.

Let the petals fall and if there are a couple of new blooms, cut one and bring inside but be sure to check for sleeping bees and leave them be.
---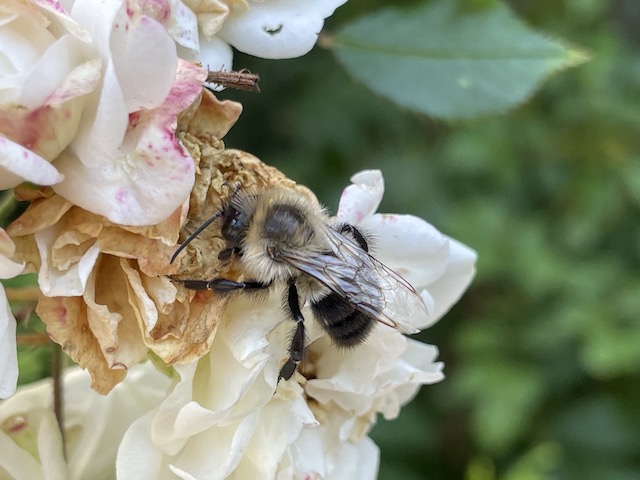 ---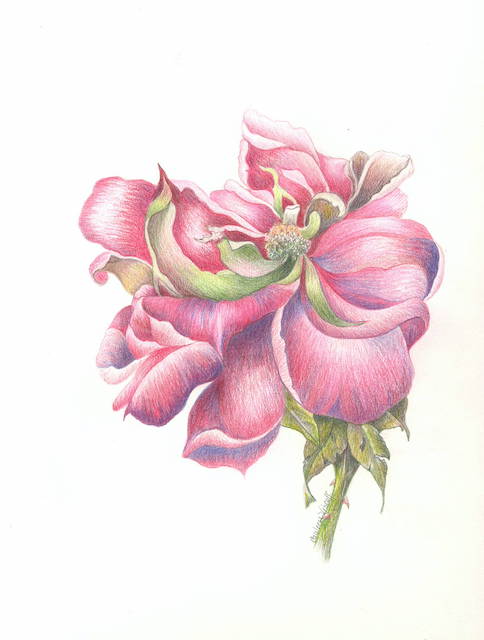 ---
Leave Your Garden Standing...
---
Seed heads for little birds and places for other wee things to take shelter in stormy days
---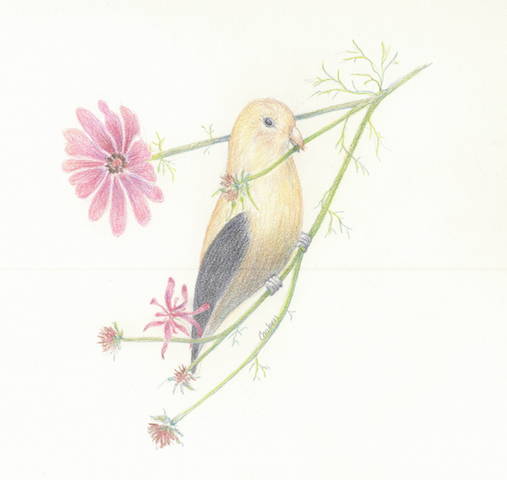 ---
Put out black sunflower seeds for the wee chippies ....
---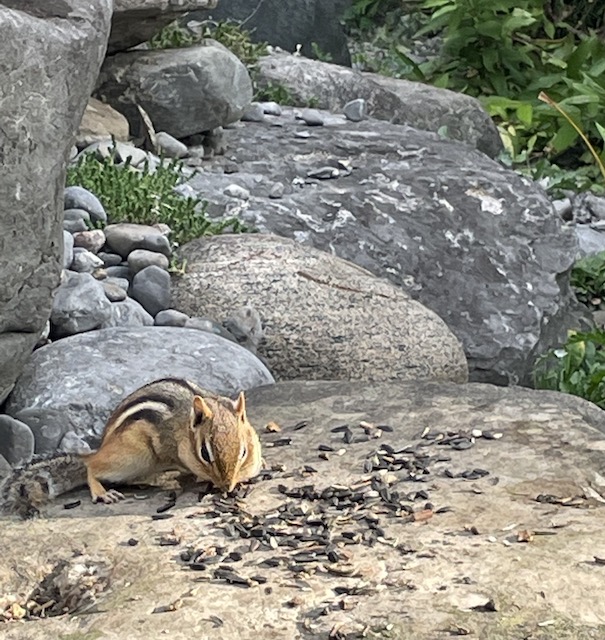 ---
Save Seeds...
---
Save seeds for flowers next year….

POPPY SEEDS: mix with some compost and spread this fall. They need to freeze before they will grow. I do the same with COSMOS seeds too..for others, save in a paper bag in leave in the dark until spring. In the sketch below, the seeds are not quite ready... first they turn black, then brown and dry... ready.

MILKWEED SEEDS… if you don't save them before they become fluffy helicopters, they will blow over the whole neighbourhood.. while that might be nice for pollinators, your neighbours might not thank you.

Saving them means you put them where you want them.
---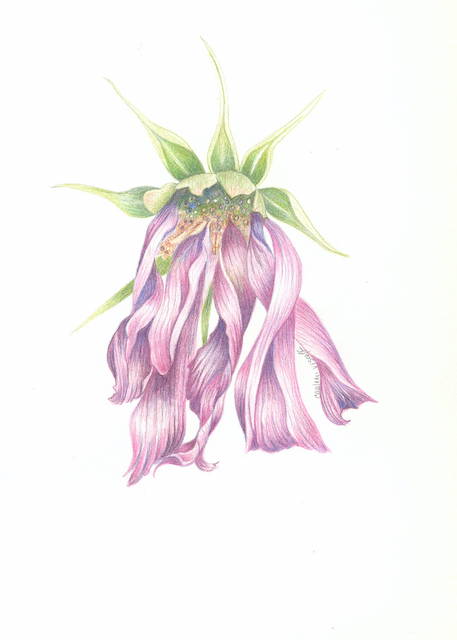 ---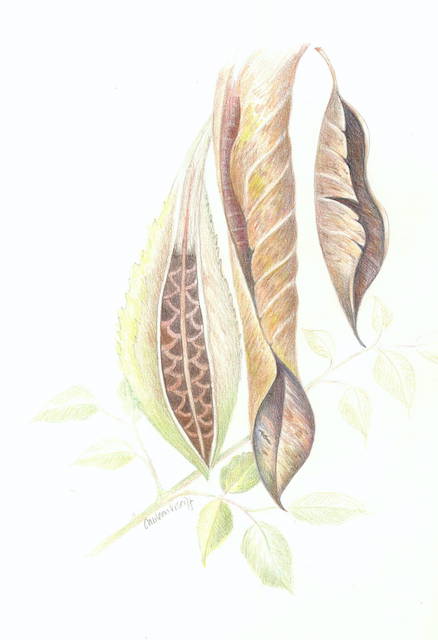 ---
Bumblebees...
---
Bumble bees are able to fly in cooler temperatures and lower light levels than many other bees.,
A sleeping bee's antennae will stop, their head and tail tucks in and the wings rest on their body, like in the picture below.
Female solitary bees sleep in their nests but male solitary bees sleep outside, resting in places like grass stalks or in flowers.
---
---
FEMALE SOLITARY BEES SLEEP UNDERGROUND
---
---
---
Honey: things you may not know
---
-Honey contains live enzymes

-If honey comes in contact with a metal spoon, these enzymes die eat honey with a wooden spoon; if you can't find one, use a plastic spoon.

-Honey is high in flavonoids, improving antioxidant ability - critical for memory formation

-Honey alone can sustain human life - a spoonful of honey can keep a person alive for 24 hours

- Propolis produced by bees is one of the most powerful natural antibiotics

- Honey has no expiry date - it's already been digested

- A honeybee lives less than 40 days, visits at least 1000 flowers and produces less than a teaspoon of honeY,, but for her it is the work of a lifetime.

Thank our precious bees!
---
---
Another reason - leave your leaves
---
---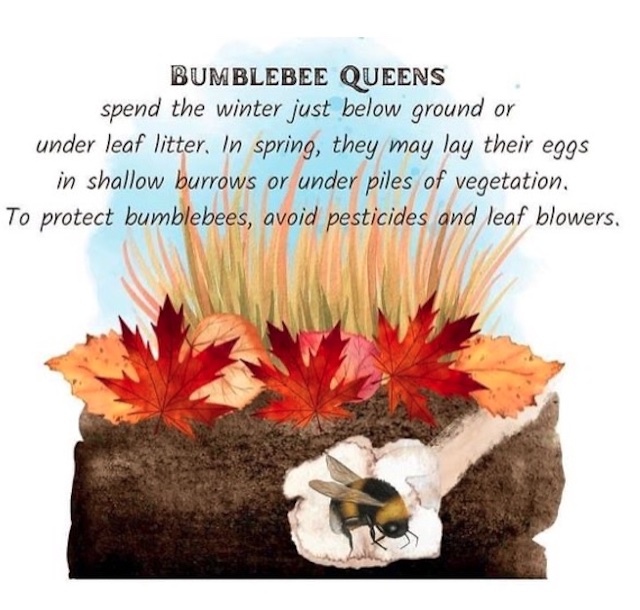 ---
---
Best to mulch your leaves, but you can cover your rose bed with whole leaves. In the spring, if you have bulbs in the same bed, you will have to pull the leaves aside to let the tender sprouts emerge but if leaves are mulched, just "leaf" them..
They also provide covering for some of the beneficial insects who need places to hide and take shelter as well.
---
Planting and Digging Bulbs...
---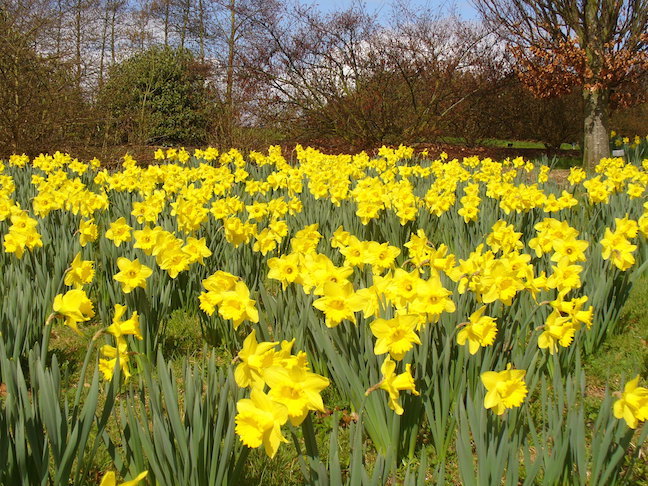 ---
TYPES OF BULBS: TUBERS (Begonia, Lily, Dahlia) TRUE BULBS (Tulip, Hyacinth, Allium, Daffodil) CORM: Crocosmia, Acidanthera, Gladiola, Crocus RHIZOME: Iris

PLANTING: TULIPS: late fall…. plant deeply ( 8 inches or more) and you can plant daffodils on top. DAFFODILS, HYACINTH, ETC…. mid October

DIGGING: Wait until after a hard frost when the leaves are brown, (could be late October or even November) then dig Dahlia, Crocosmia, Acidanthera and Glads

Brush off the dirt (don't wash them) and make sure they are very dry before storing in a paper bag in the dark- otherwise they can easily rot.
---
Other Fall Tasks...
---
Leave your garden standing…. cut some hollow stems and lay them on the ground for beneficial insects to sleep in over winter.
CLEAN YOUR TOOLS; Dry, sharpen and oil them before you put them away…. otherwise when spring comes, the rust and dirt will make them difficult to clean and sharpen This way, you'll be ready to go when spring surprises you.
---
---
---
Our Art...
My artist/writer/gardener friend Claire Sullivan and I
are guest artists at the Ashburnham Alehouse in Peterborough
for the month of October…
Come see ours and many other artists' art
- but most of all, come for the great food
and friendly staff. Ashburnham Alehouse
---
---
And Don't Forget...
---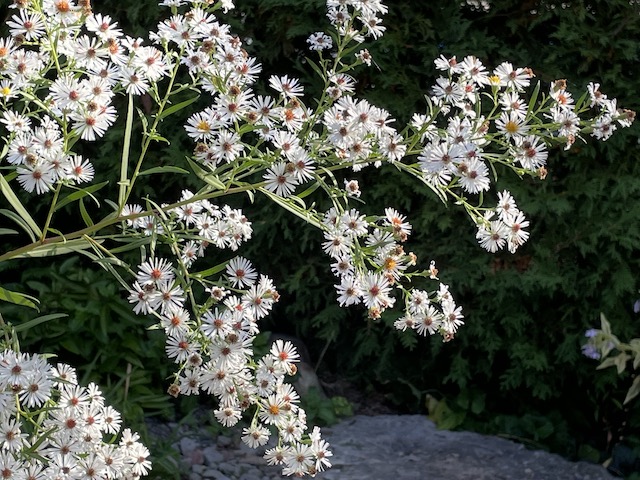 Sit outside for any few minutes you can find
… this glorious weather will not last.
Take photos
Make notes and plans
And love your garden;
praise yourself for what you accomplished this season
Need more to do this fall?
Look here: fall-october-garden-tasks.html
---
---
Until next time....
---
---
Lucy says Happy Hallowe'en.
As for me, I shall be inside, on the sofa,
by the fire, eating my own treats.
---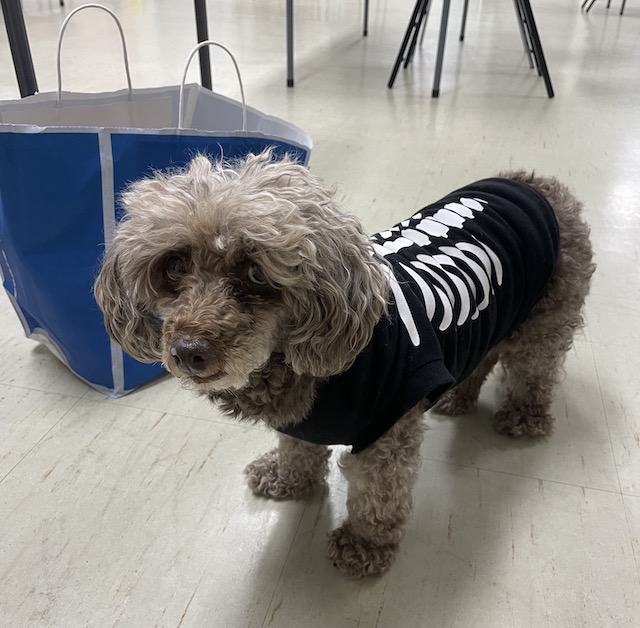 ---
---
---
---
---
Back Issues for Garden Bliss & Blunder
Lush-Gardens
---