Happy New Year,,


Romancing Winter
---
Sarah Ban Breathnach shares her daily wisdom in her astonishingly insightful book

"Simple Abundance" where she talks about romancing the cold (and flu)… but I got

thinking about how that doesn't sound too appealing and have decided

to romance winter instead…

Instead of Christmas gifts to my friends, I found lovely small boxes and filled them with

things like music, a wee notepad, lip balm, cough drops, hand sanitizer and a funny

quote that reminded me of them. Useful and fun for me to do.

One of my favourite quotes is this: (because, of course, it is true)
---
---
IT'S A NEW YEAR - NOW WHAT?
---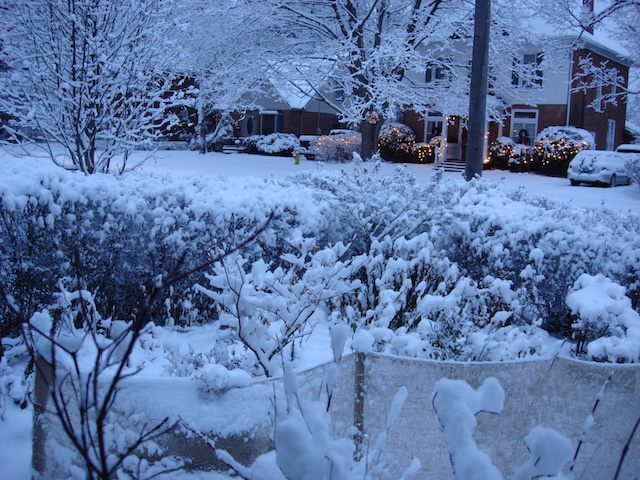 ---
I rather like the time after the holidays - seems quieter, less hectic and even though some say the days are getting longer…it doesn't make a lot of difference to me.

A few seconds or even minutes a day is neither here nor there because I prefer the ends

of these days… the dusk, the ensuing silence as the sun sets and snow muffles sounds…

Times before the sun really sets to take a walk… puppies in coats jumping in the snow,

then home for treats and a warm blanket.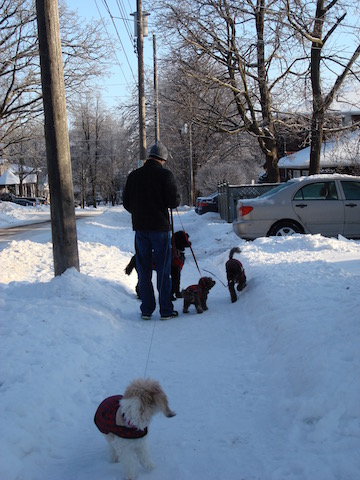 ---
Or get up early -
- the sunrises tend to be pretty incredible and the world is still quiet.
---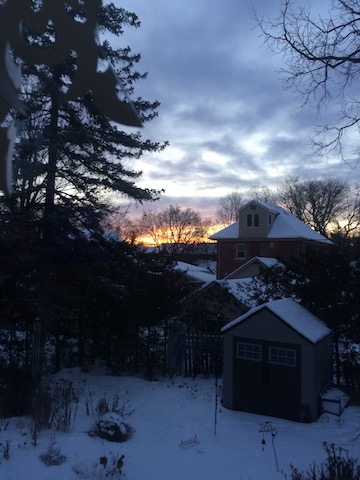 ---
---
ON THE DAYS WE CANNOT GARDEN? WHAT ABOUT A PROJECT?
---
I found this lovely chair at a charity shop for a few dollars
but it needed a new seat.
I found some fabric at a local shop with a line drawing of leaves and flowers

so I got out my embroidery thread

and filled in the spaces with colourful stitches

…. It took most of last winter
---
---
But by my birthday in March, it was done
I had an upholsterer put in new padding seat and add my stitching
…. It was rather thrilling to see it done
…. Happy Birthday Me!
---
---
Or maybe you would like to take a course on line?

I loved Linda Chalker-Scott's course called THE SCIENCE OF GARDENING

offered by The Great Courses.

Watch for a deal because the price varies but it is worth every penny and every word of the content.
BUT I BET YOU'RE THINKING ABOUT A GARDE RE-DO
---
Do you want to re-design your garden?

If so, you might find a few ideas on my site under Designs

(bear with me until I learn how to make a link you can click...thanks)

And as you start to plan what you want. remember it's not only the beauty of it,

but the amount of work needed to make your dreams come true

…. what help will you need?

Here's a list of questions you really need to answer before you make your final decisions

… such as, will you need a gardener? or a landscaper?

there is a huge difference in not only cost, but for the future of your plans
---
QUESTIONS LIKE THESE:
What problems are you having? too wet, too dry, poor soil etc.
List what you would like vs what you need and cross-reference 
Solving problems will create your wish list. 
How much time are you willing to commit?
Will you need a little help or a lot ? 
from design to completion?
How much time will you have to maintain your new garden(s)
And, most important, what is your budget?( consider doubling any estimate because things can often change - like your mind - mid-project.)
Or perhaps, take out some grass and make another garden?
Here's what we did a few years and a few gardens ago… . (IT'S A TEST... to see if you can find this page on my site
... called Grass-to-Garden under Designs...
Of course its because I want you to see what else is there
but I confess to finding this adding links very confusing....
I will learn by next newsletter though...)
---
TAG: YOU'RE IT…
---
In the meantime, what about all those plant tags ?

or packets of seeds you meant to sow, or share.

I faithfully keep them… in a box

… for those long winter days I think I will get around to sorting them.

But if I don't, the box fills and then, another

… and season after season the pile of boxes grows.
---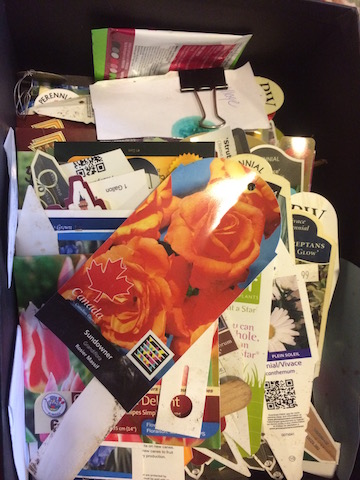 ---
I found a few ways to solve this….
---
---
Besides plant tags, i find it more and more important to keep track of what I do,

what works (or doesn't) .

So I keep a journal… sometimes it's a simple notebook, a 3-ringed binder, or a scrapbook.

I like to jot down what I bought, where I planted it, what I paid and

- how well it did… or not.

See some of my journals on my site....
---
BEST STRESS RELIEF
---
There, I said that word.... stress...

We are all looking for ways to reduce the niggling stress that comes from the curve

balls life throws… and keeps throwing.

A few years ago, my daughter introduced me to "zen doodling".

I loved the idea and once I was hooked,I used a lot of the techniques and just added

my own doodling. She bought me a Leuchtturm 1917 journal.

. the paper is smooth, silky and takes fine-tipped markers like a dream.

Indulge in one, keep it and a few markers closely and let your imagination run free.

Yours will look different and that's the point… there is no right or wrong… it is all about

just putting pen to paper and letting the world wind down for a time.. and it feeds that

bit of soul that gets lost among the chaos of living in challenging times…
---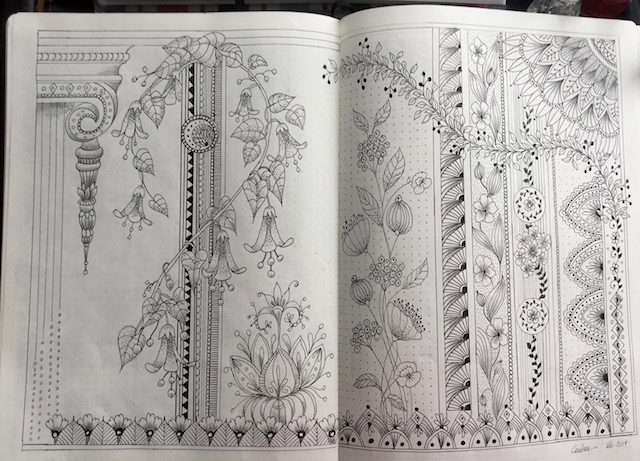 ---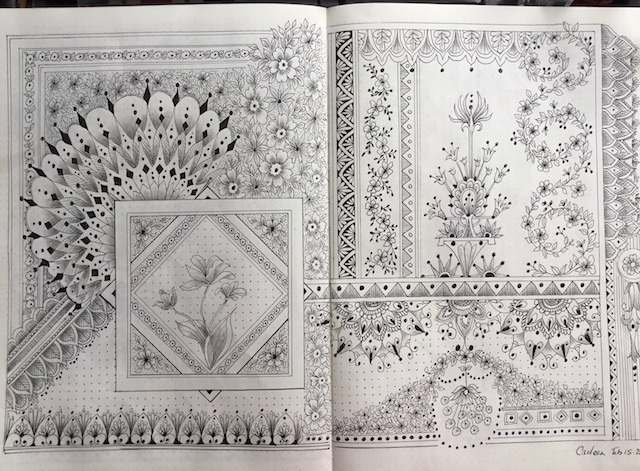 ---
AND…
---
Lucy says, put on your fanciest collar and dance a little
- maybe take a line dancing class… good for so many laughs and even exercise…
Until next time
… stay well, calm and do something nice for you
… every day.
---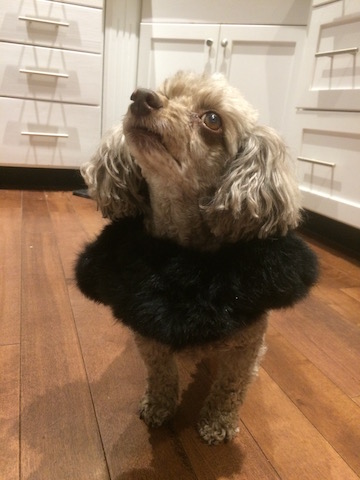 ---
---
---
---
---
---
---
---
---
---
---
---
---
MY BOOK IS IN PRINT...
---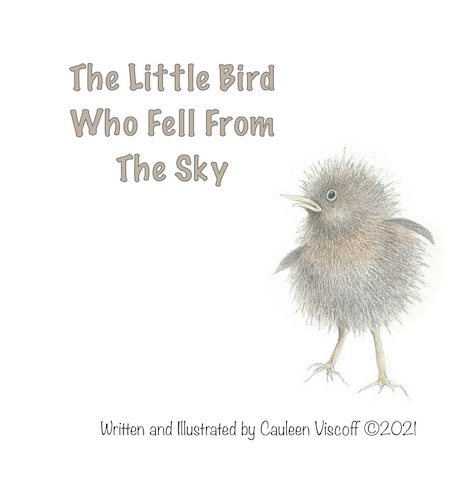 I am so excited !
My Little Bird book is being printed in time for Christmas and Holiday giving.
It's the very true story of a baby bird who fell from his nest,
rescued by a boy, his little sister,
their Mom-Lady (who decided he would live),
and Nana & Papa who helped him fly into the woods.
I cannot wait to share it with you.
if you would like a signed copy,
an 8x10 print of Little Bird,
or even a recording of me reading it to go along with the book,
please send me a note at
birdieboxpress@gmail.com
---
---
BOOKS to READ ... now or later
---
Both amazing, intriguing and great reads.....
THE LAST GARDEN IN ENGLAND Julia Kelly Gallery Books - Simon & Schuster - 2021
THE FORGOTTEN GARDEN Kate Morton Atria Books - Simon & Schuster - 2008
---
---
Back Issues for Garden Bliss & Blunder
---
---
---