PRUNING ROSES-
from Mystery to Mastery


---
Before you get your pruners,  
 Look HOW ROSES GROW...
- then, come back here...
---
Ready ? Gloves on and watch those
PRICKLES (not thorns)

Let's go....
---
HOW TO PRUNE ROSES
THAT GROW LIKE A BUSH: 
---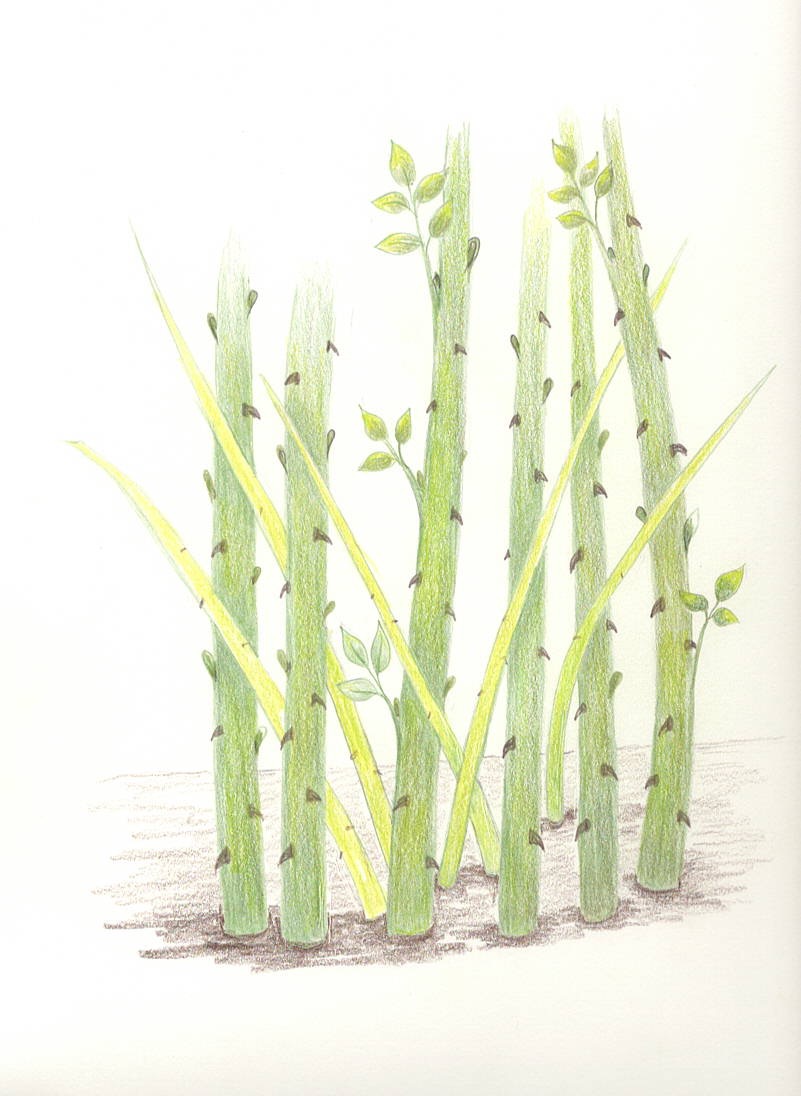 REMEMBER...(see Sketch above)
New canes grow up from the ground into the centre of the bush.
These are weaker the first season and often flop outward as they cannot support themeselves. 
Follow a cane from the base to the tip: it doesn't  fork or create a branch and blooms at the tips on long stems... like Tea Roses, Damasks and Gallicas
 PRUNING THE ROSES THAT GROW LIKE A BUSH:
First: 4 D's
Dead, Diseased, Damaged, Dying
Then prune several of the outer canes a little shorter so new growth will form a sort of cage around the outside.

New foliage will grow and support those new canes as they stretch outward. (don't stress the rose by doing this all in one season; take a couple) 

Remove little twiggy bits.

Prune the rose to the height and width you like or suits your garden - you can take off up to a third of either.
These are the "modern garden roses" which are pretty disease resistant so you can leave canes in centre for blooms all over.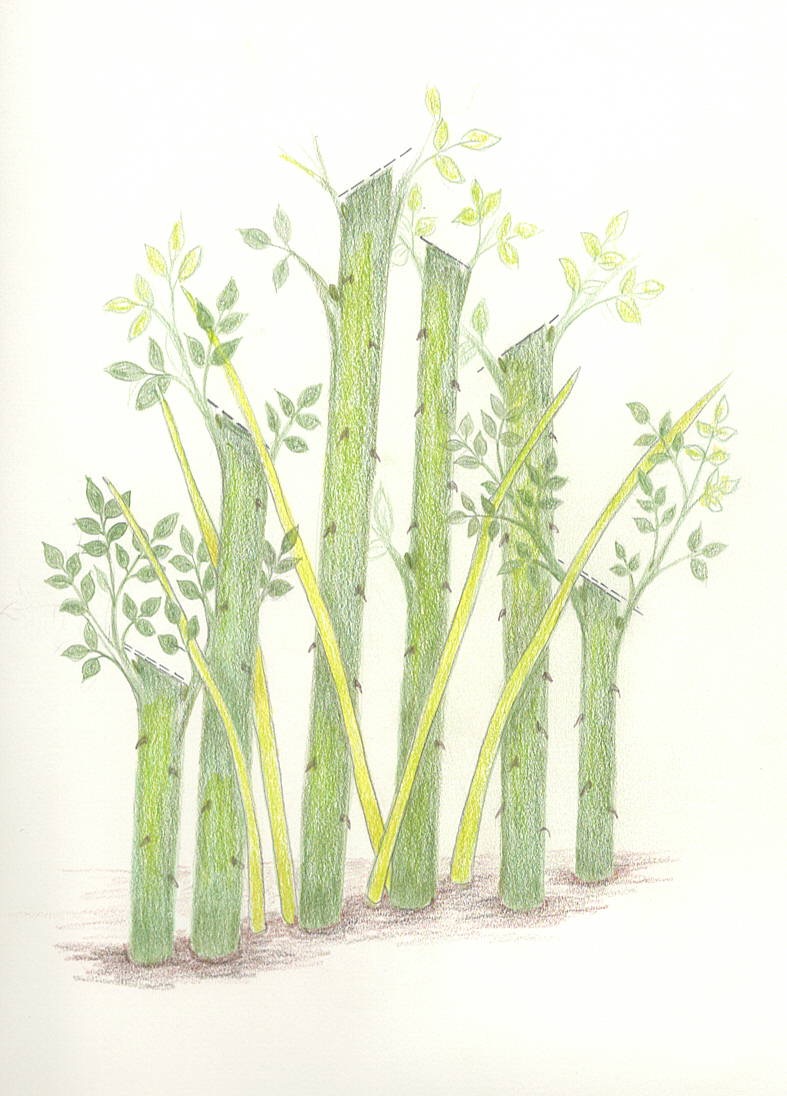 ---
Above:
New outside growth supports young canes. 
---
HOW TO  PRUNE ROSES
THAT GROW
LIKE A STRUCTURE
---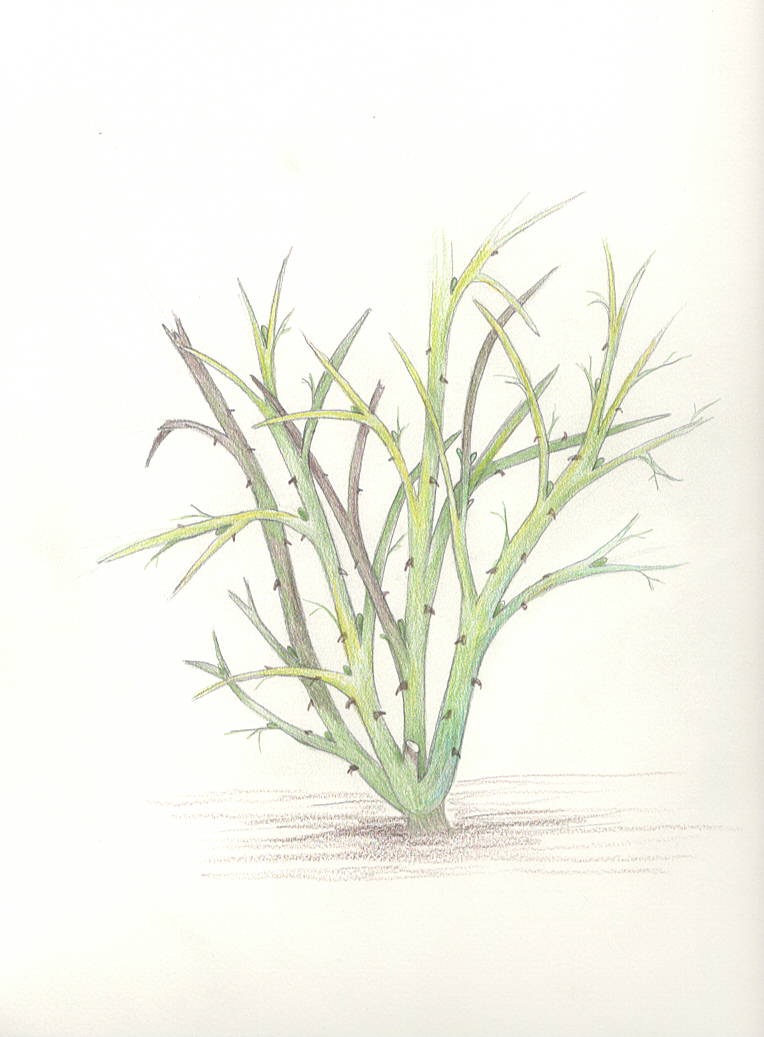 REMINDER: Above:
(floribundas, roses with Asian influence)
These canes all grow from the base and branch out like scaffolding or fingers - adding layers every season.
They grow and branch; grow and branch.
Let it grow 4 to 5 feet high.

This rose can take 2, 3 or 4 years just to build the structure and if you take away that bottom layer, it can all collapse, taking another 2 to 3 seasons to rebuild.
So think before you prune this rose.
The centre needs time to build the structure and the blooms are all over the bush.  There are no long canes or stems on these roses

HOW TO PRUNE A STRUCTURE Above:
Start with the 4 D's and a third off the top.
Then prune canes that cross or rub against one another - cut those back to a healthy bud-eye.

The canes on a rose that grows like a structure, grow like a scaffolding and tend to be self-supporting.
No need to create an outer cage as in the bush rose. 
Give it some shape by removing pieces that stick out or take your eye away from a pleasant shape.
Groom all season... shape and deadhead.
(Less is more)
---
HOW TO PRUNE CLIMBING ROSES
---
REMINDER:
Above:
The long main canes that grow from the base need to reach their height first; then they bloom.
Some climbing roses grow 10 to 20 feet in one season.
Blooms grow from the laterals (or horizontals).

HOW TO PRUNE A CLIMBING ROSE:
Climbing roses are pruned differently but still use the 4 D's before you do anything.  

Don't prune out the main canes (the ones that grow vertically) because they support the climber.
It takes too much energy for the rose to start all over again, from the ground up.

However, if for some reason, such as damage, broken in storm etc, do your best to take no more than 1/3 - otherwise there is less energy for blooms.
Remove all canes that cross and rub against another, (trim back those that reach out to catch your sleeve).
Pruning cuts should go back to strong and healthy canes but cut off the little 'twiggy bits' (smaller than the size of a pencil). They can't support the weight of a bloom.

Train the lateral canes to grow as close to a 45 degree angle as possible and tie them gently to a support or trellis.
Remember, blooms grow from the laterals (or horizontals).
Groom all season -  deadhead about 6 to 12 inches above the lateral cane.

---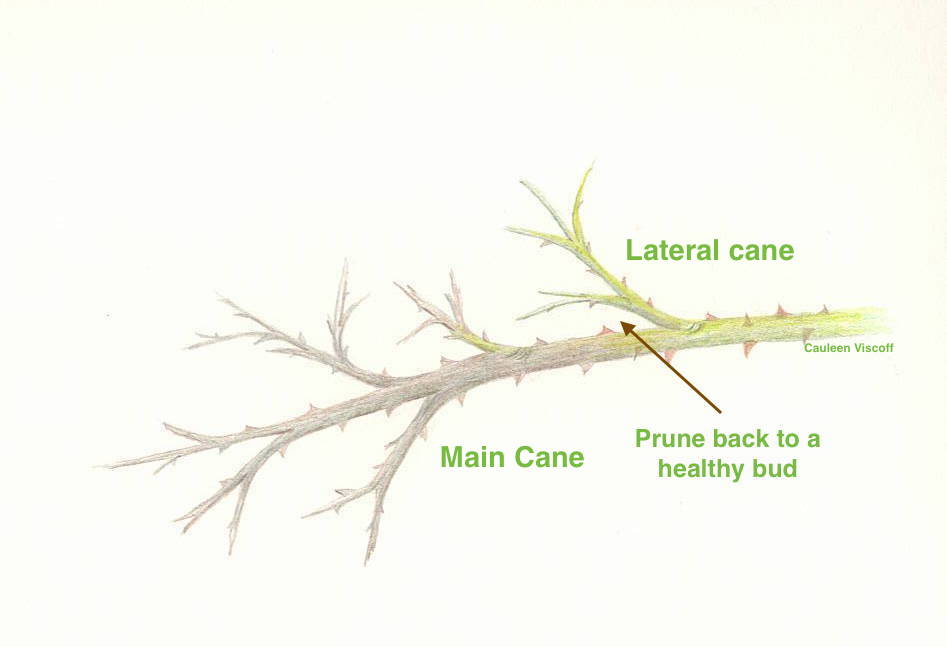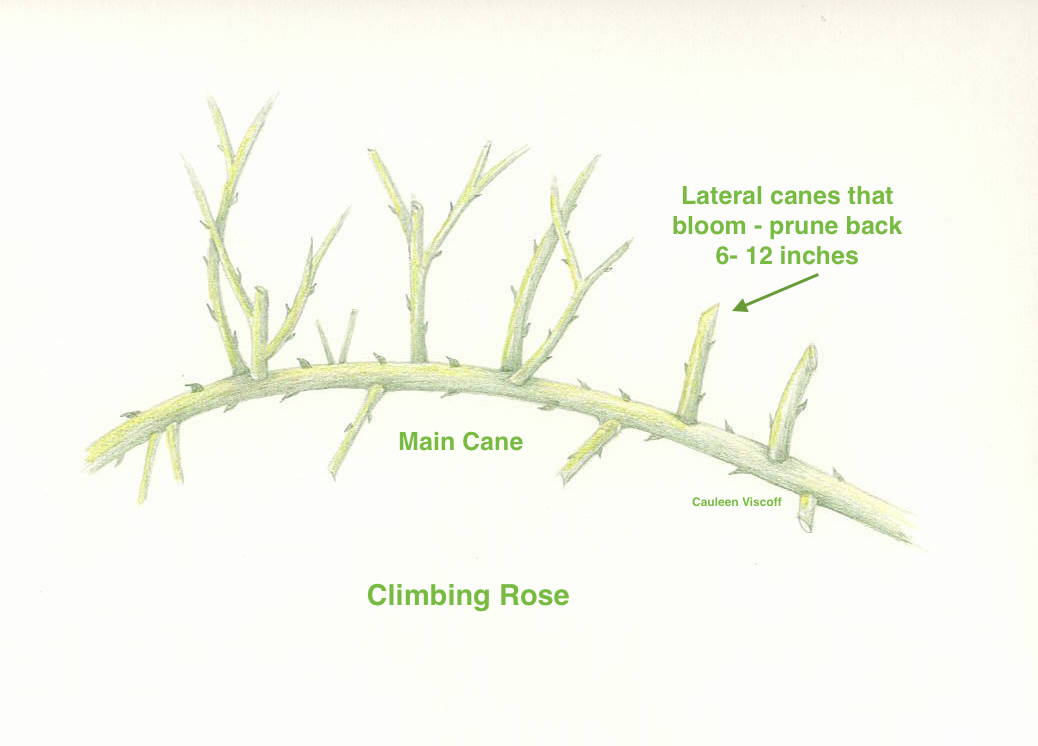 ---
Congratulations ! You did it...
Of course there are lots more tips, myths, "do this" or "don't do that" and some of it is really interesting stuff.
Start with this and then take a look at the other notes on pruning roses.
Even the experts have their own methods and stories.
---
Keep Gardening, and sign up for my monthly newsletter "Garden Bliss & Blunder"

I love connecting with other passionate  gardeners and my monthly newsletter  is full of neat stuff about our journey past the blunders to the blissful gardens  we crave so much.