Loving Summer !


---
Summer in the Garden
---
We have almost recovered from the storm....
some piles of branches still grace boulevards
and piles of wood-chips like gold dotting vacant lots
- just waiting for gardeners.
And for whatever reason,
the gardens are looking glorious.
---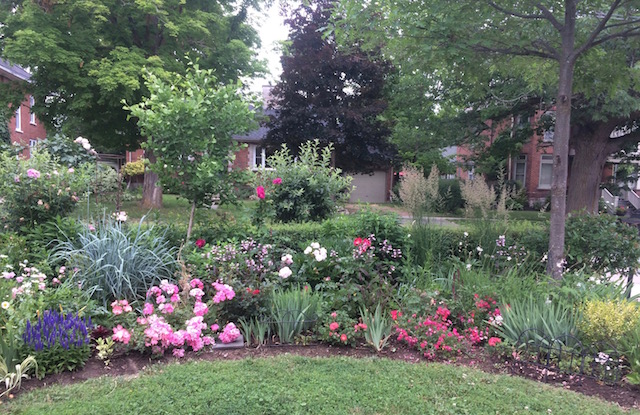 ---
"An artist is nothing without the gift;
But the gift is nothing without the work."
Emile Zola
Gardeners are artists with a different palette.
---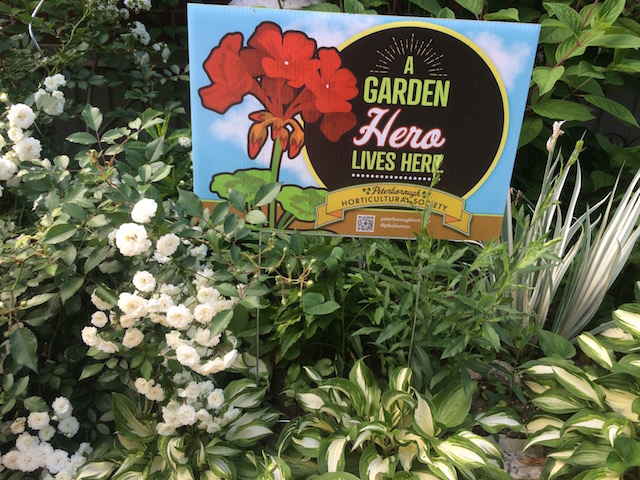 ---
What a lovely surprise to come home
to find this in my garden.
The Year of the Garden has many initiatives
and this is one….
The sign will stay in my garden for two weeks
and then is passed on
to another garden and gardener.
---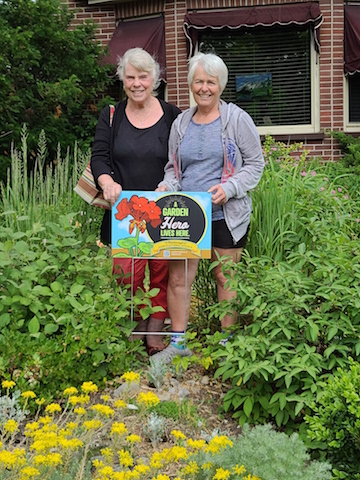 ---
And now it goes to an amazing gardener, Claire....
---
Invasives - not again ...
---
I can hear you saying, oh no, not this again.
Yes, there are so many on the list and it boggles my mind.
But I find it hard to think of the one below
as nasty because it smells lovely,
looks lovely and yet,
the ecological harm it does,
out-weighs its prettiness because it,
like many others is a significant threat to biodiversity.
But what does this really mean?
Invasive plants will thrive in most environments
- they're not fussy about soil, sun or slope;
they're prolific seed-spreaders
growing quickly, and
overtaking our own native plants.
This one is "Dame's Rocket"
---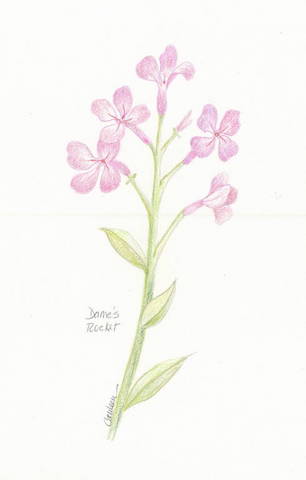 ---
Dame's Rocket (Hesperis matonalis) is an invasive Mustard;
It has no natural predators and appears immune to disease,
quickly overtaking native plant communities,
stealing light and moisture….
It even grows in and around waterways.
Sadly, this beautiful thug
is often included in "Wildflower Mix" seed packets….
so it can easily steal into our gardens
- almost behind our backs.
---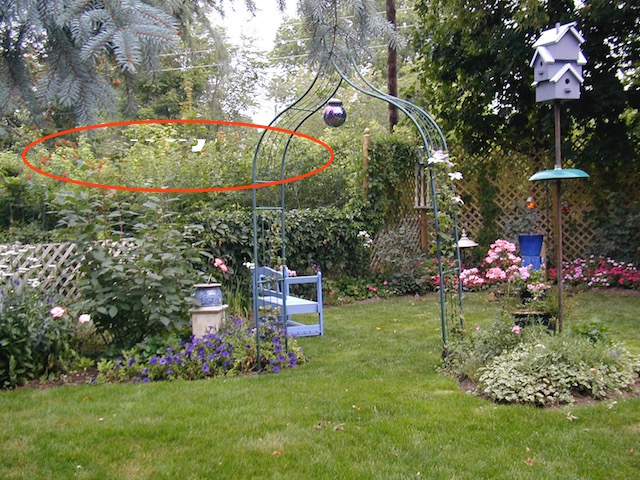 ---
My first yard backed onto the rail-way allowance
- a berm leading up to the tracks and I was thrilled
to see it beautifully covered
in glorious mauve blooms…
... little did I know
it was Dame's Rocket in that red oval.
I brought bouquets by the armful into
the house filling it with their lovely scent.
---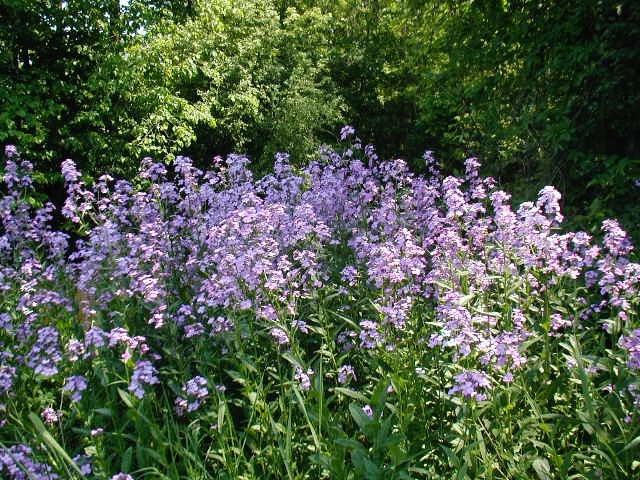 ---
But there is a better alternative…
- our own Prairie Phlox
(Phlox pilos)
---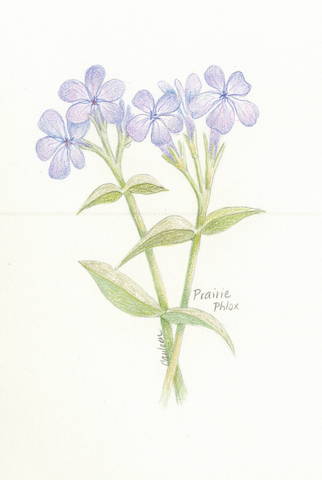 ---
DAME'S ROCKET (Hesperis matronalis)
Very Invasive with 4 petals
and leaves alternately arranged
PRAIRIE PHLOX (Phlox pilos)
Is Native with 5 petals
and leaves opposite each other
---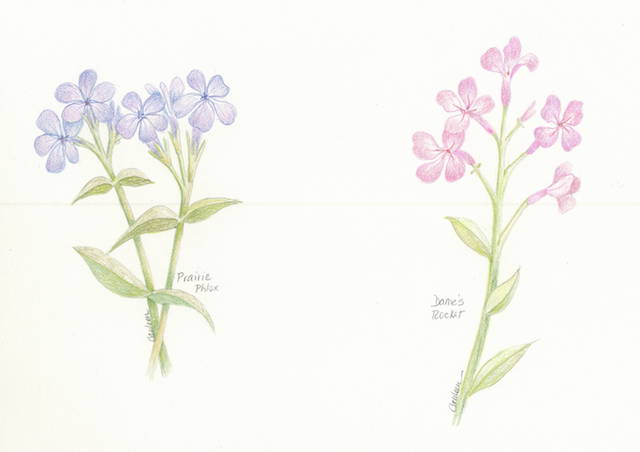 ---
Side by side, it is easy to see the difference...
If you wish to know more,
consider joining the Canadian
Coalition for Invasive Plant Regulation (CCIPR)
- working to improve the regulation of invasive
plants in horticultural and aquarium trades.
---
---
Invasive Maples
---
Last month, I shared some photos of the storm (Derecho)
that flew through our region with much damage.
We are still cleaning up but most of the damage
was to hundreds of vehicles,
homes and thousands of trees.
Most of those were Norway Maples (Acer platanoides)
- native to Eastern and central Europe and western Asia…
and yes, invasive.
40 or 50 years ago, many cities planted them
by the thousands in "new" housing developments.
They matured quickly, providing shade
to otherwise bare landscapes.
But they are weak, shallow-rooted trees,
often with multi-stems.
Sometimes the quickest solution is not the best one
s many cities have found.
Here's how to tell the difference
between the invasive Norway Maple
and our native Sugar Maple (Acer saccharum).
---
---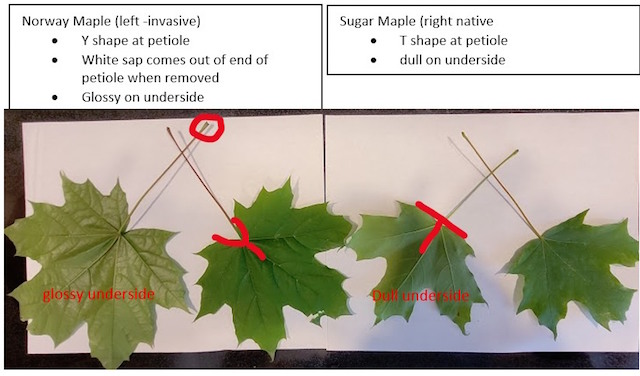 ---
So, please choose a native tree…
for a large one, a gorgeous Sugar Maple or
my favourite; the Serviceberry -
- soft white blossoms in spring, edible berries in July
(if you get them before the birds do)
and glorious orange,
yellow and red leaves in the fall…
Either a single stem,
or a smaller multi-stemmed tree…
a perfect addition to any yard, garden, or lawn.
---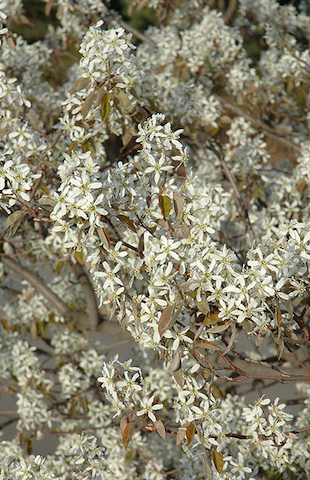 ---
Both Photo credits: NetPS Plant Finder
---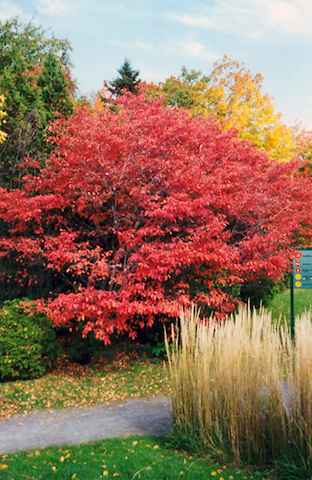 ---
Check my page on tree planting
because HOW you plant a tree
will determine HOW it LIVES
...or DIES.
planting-trees.html
---
Speaking of Trees...
---
I had never seen or heard of this
and thought you might find it interesting...
This tree was hit by lightening and
later the same day, the tree turned red
- photo by Shannon Suchy (FB)
---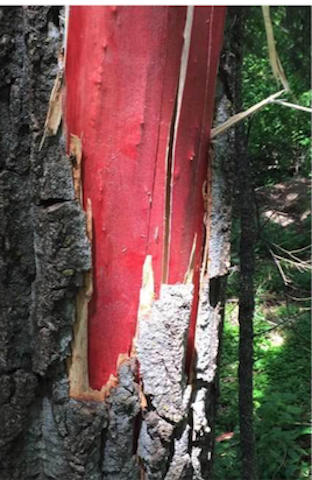 ---
Linda Chalker-Scott;
scientist from Washington State U.
explained the reason this way:
"This happens because the lightning
literally boils the water in cells
and bursts their membranes.
So these are pigments that have leached out
of the dead cells that you are seeing now.
I would guess they are anthocynanins."
and… Bonnie Jones who works
in log quality control for sawmills in the PNW
has seen this colour change often on logs coming from areas
that were burned in the high heat wildfires.
---
I Love Roses...
---
You may already know how much I LOVE roses…
and this is an exceptional year for them…
I am thrilled mine are particularly gorgeous this year
and I could fill this newsletter with their photos…
but here are a few of my favourites
in the garden today.
---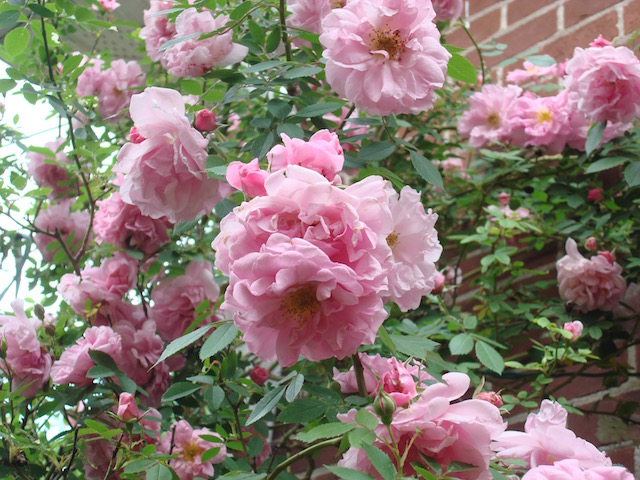 ---
"John Davis" is a hardy "Explorer"
(climber) rose, grown in Canada
---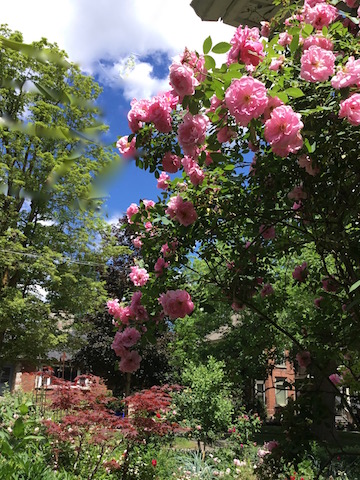 ---
and of course, there are other roses
---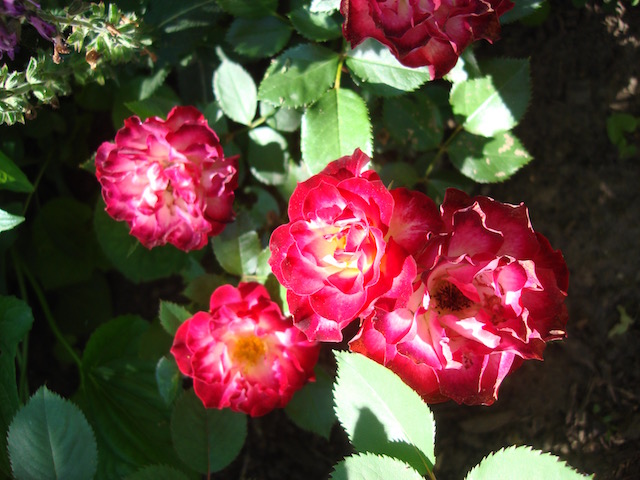 ---

---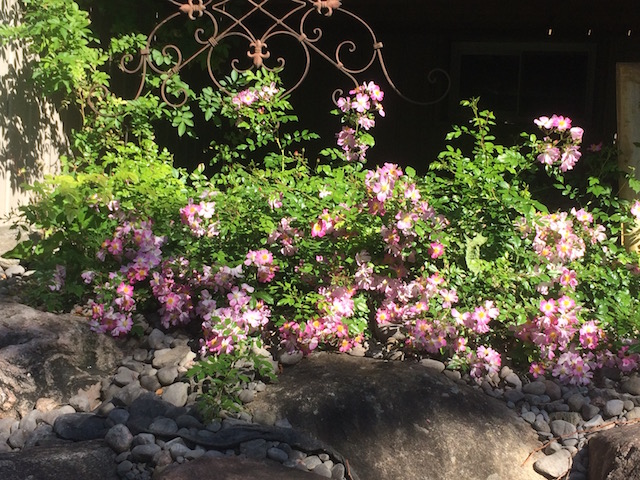 ---
This pink rose is a rambler... the single petals are
great for bees to roll around in the pollen
...it is very funny to watch.
---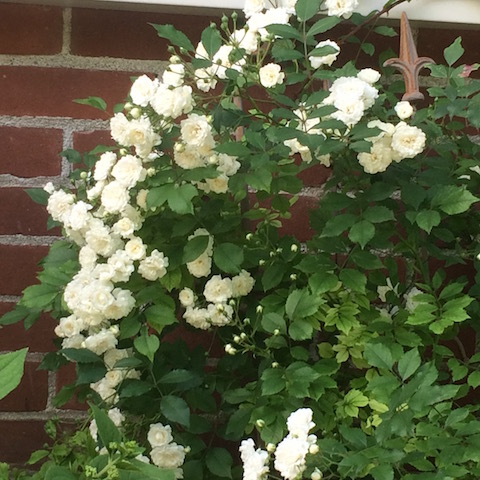 ---
This is Rose Alba Meidland...
(much like "The Fairy" rose)
It is a very prolific, thorny rose that
clambers over everything...
this particular one came from the branch
of another that lay on the ground for a few weeks.
It rooted there so I moved
it in front of a trellis last summer...
...did I mention it is prolific?
---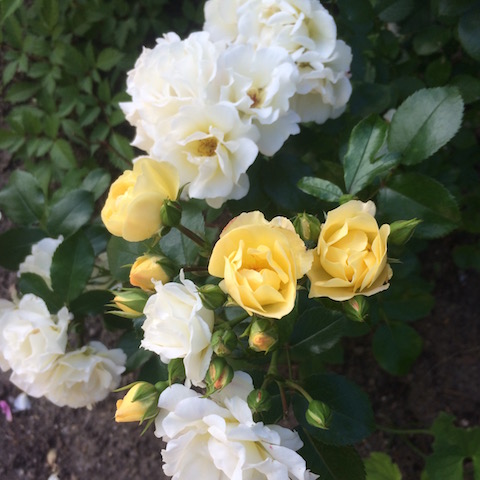 ---
This one, above, is a "landscape rose"
called "Popcorn"... starts out yellow
like butter and matures white...
smells divine... stays pretty small
---
Do you have a challenging boulevard?
or tough area?
These roses (below) grow on my boulevard…
"Drift Roses" are hardy, disease resistant
and bloom all summer…
What's not to love about them?
---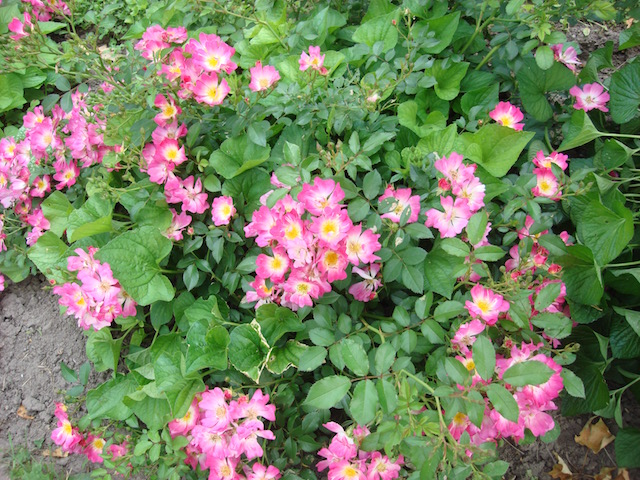 ---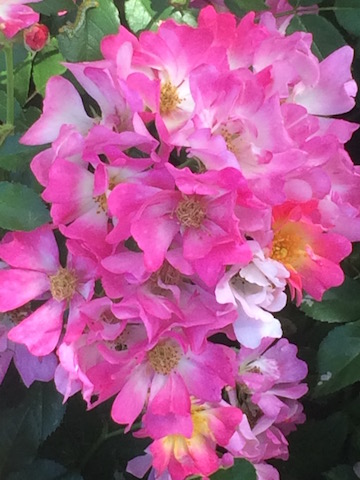 ---
By the way, my book (and on-line course)
on roses is progressing
and there are a lot
of chapters on pruning.
..so I wondered if any of you have any questions,
issues or problems you with your roses.
.. perhaps trouble understanding
something you have read,
tried or want to try.
Ask me.
.. if I don't know,
I will find out
and perhaps use it in my book.
... because likely others have the same questions,
issues or problems...
send me an email at cauleensgardens@gmail.com
---
Grooming Perennials
---
We want our gardens to keep blooming
and some of those fall-blooming perennials
could do with a good trim now….
Like Monarda (Bee Balm) or Asters…
in July, they are tall and will soon be gangly,
starting to fall over or lean when the blooms
are heavy, loaded with bees.
Here are some things you can do….
Deadheading is for more than roses.
Trim plants that shoot out random stems,
have dead blooms or dying stems.
It keeps your garden neat
and will often give you more blooms.
Snip off faded blooms as soon as you see them,
otherwise, the plant spends its energy
making seeds instead of blooms
---
DAISIES, IRIS, CORAL BELLS,
(Heuchera) FOAM FLOWER and HOSTA
Cut back the bloom and stem - they seldom re-bloom…
but it tidies the flower bed
DIANTHUS - when done blooming,
it has a nasty hairdo with dead ends….
chop them back to healthy leaves
and sometimes will surprise you with more blooms.
MONARDA or ECHINACEA
often have stems with multiple flowers;
cut back to a new set of buds, just below the spent bloom(s)
---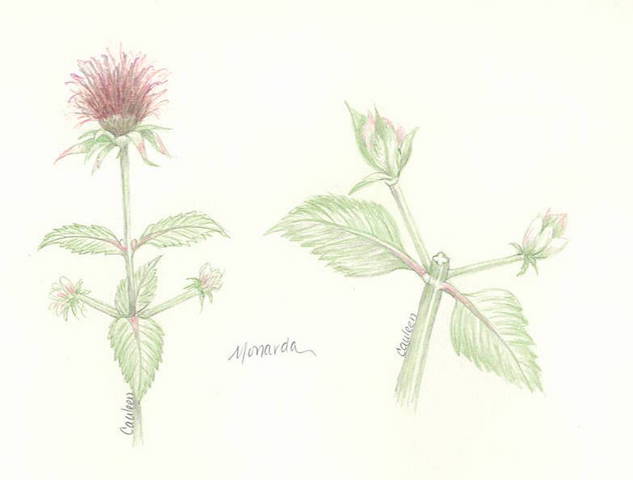 ---
Monarda (Bee Balm)
---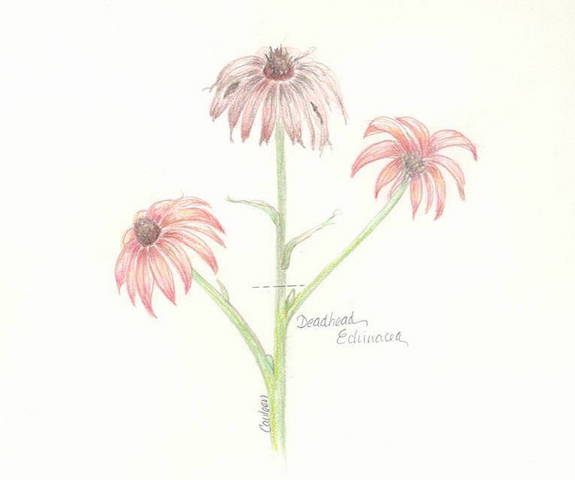 ---
Echinacea..
cut below dying bloom to the bud below
---
Lady's Mantle- when the blooms are almost done,
it gets "blowzy" and a bit overwhelming in the garden
so when finished flowering,
cut back the long blooming stems to find
new leaves underneath and when cut back,
forms a tidy plant once again
---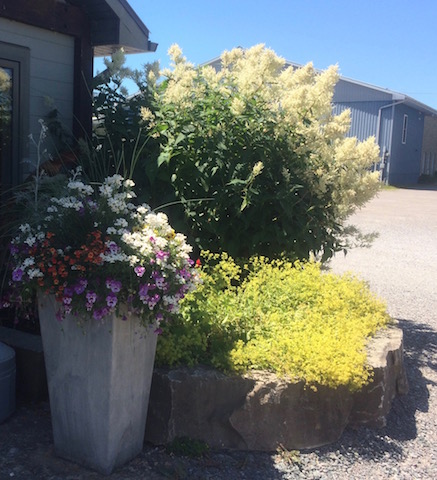 ---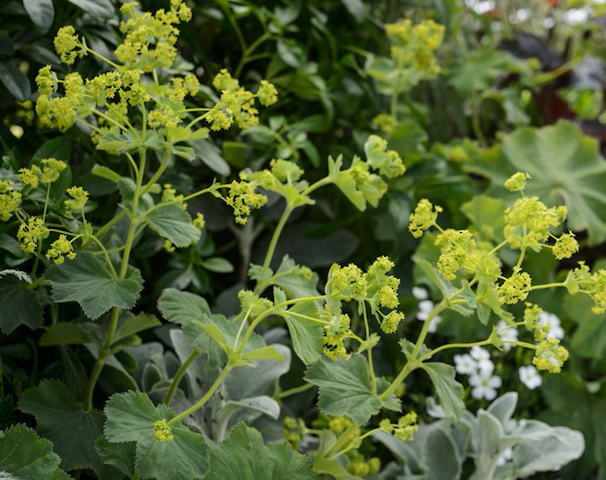 ---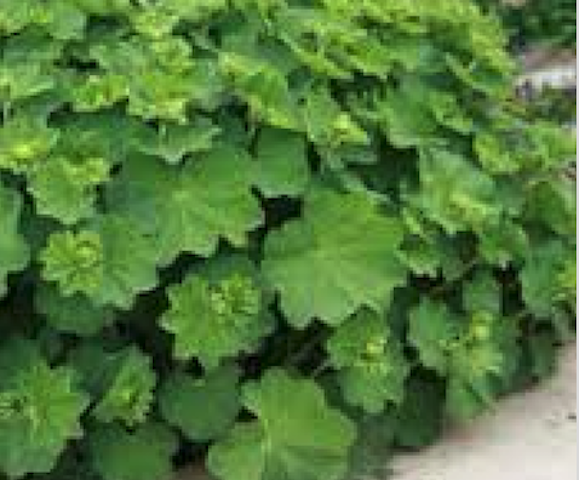 ---
LAMB'S EARS also benefit from a trimming…
it's tidier as the spent blooms turn brown.
LILIES….
just cut off the dead blooms and leave the green leaves
---
AS FOR ROSES...
cut them back, down the stem to a 5-leaflet
and a new bud will be there.
See my web page
for a whole lot more on pruning roses
---
---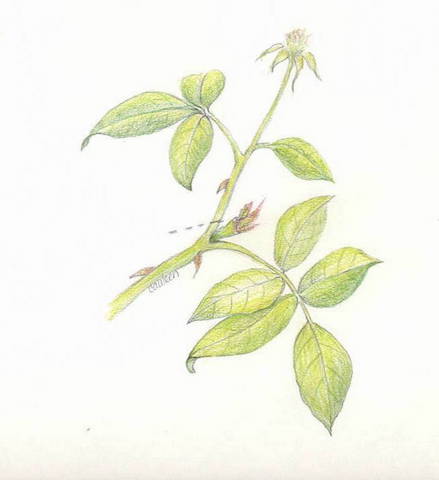 ---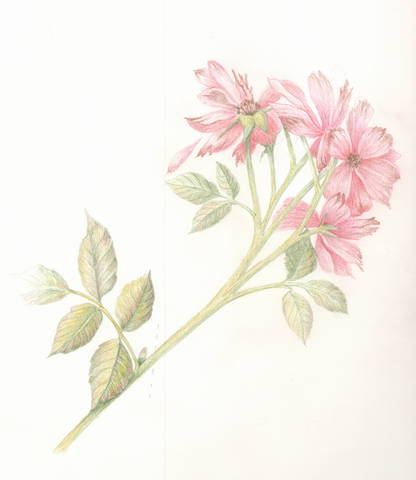 ---
It is hard to see in the sketch above,
but cut just above the leaflet
where the little bud emerges,
cutting off the whole spray.
---
Angels...
---
"Each blade of grass has its Angel
that bends over it
and
whispers Grow, Grow."
Not sure these Angel Wings
will keep the grass growing though…..
---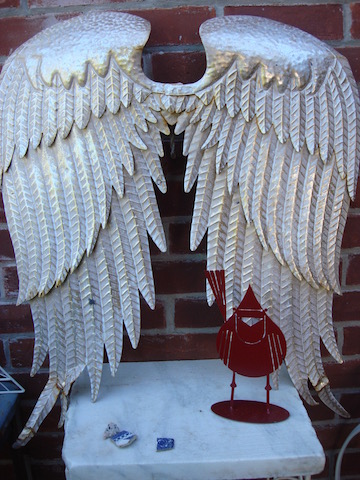 ---
Rain and Drought
---
We need to keep our gardens healthy,
which means watering new plants deeply
and others as they need it…
… carefully and only when necessary
- especially after a week or two without rain;
water weekly, but not weakly
and when it does rain,
we need a little
"… mystical faith in muck…."
Lady Eve Balfour
from "5 Centuries of Women and Gardens" -
Take care of the work you have done….
This is not the time to let things go or
it will be overwhelming…
- a little each day
or a few hours on the weekend
but keep going, keep making and accepting
Miracles...
We are the garden heroes.
---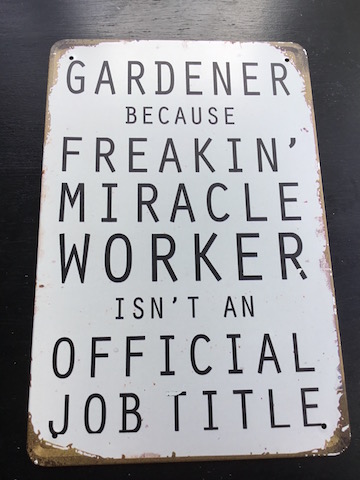 ---
This past week we celebrated Canada Day…
with all its foibles, issues, history,
presence and glory,
it is a wonderful country
and we are fortunate
to live and grow here.
Lucy was tired from celebrating and took a nap.
---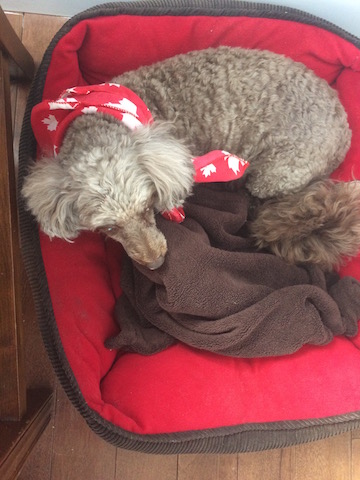 ---
But she is always there to remind me
there are random little plants
popping up in the patio.
My work is never done.
---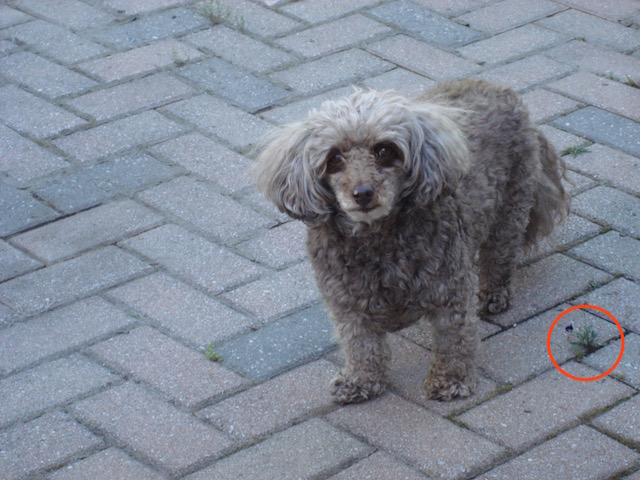 ---
Until next time...
Take care of each other,
spend time in your garden, on your knees,
Keep the weeds at bay
and at the end of the day,
you should truthfully
be able to say that today,
you played 'dirty".
---
---
Back Issues for Garden Bliss & Blunder
---
---
---