For the Love of Gardening  
What works & What doesn't...
---
Note:
Although this is my own story, I have lots more information and the links to all that at most often at the bottom of each page.
          How do I start?




        What do I do first? 




There was a time, not so long ago when I didn't like to plant flower gardens. I confess, I didn't like to get my hands dirty. (yes, really).
I had no plants and no trees. Any task that involved putting something green into the ground was just too daunting.  I had pots that someone else planted and I loved that.
But when my perfect life encountered some not-so-perfect speed-bumps, I started digging around in the earth just to hold things together. Behold, the gardening bug (pun intended) bit me and now, I am a gardener.
My story is a bit long, but I'd like to share that journey with you… the one from flower pots to flower beds and from dirty hands to the real love of gardening.  All my mistakes, and my successes - my "aha" moments and my lessons.
I'll share my experiences with:
PLANTING TREES and all that goes with it. 
Making gardens and maintaining them; waking them up in Spring and putting those Gardens to Bed for winter for winter; from trimming to Pruning and so on.  
Come with  me, bring your tea (or good strong coffee) or your favourite drink. Join me on my journey and let's start at the beginning.....
Why do we garden?
I believe it's because we see it as proof that hope and faith are still alive. The last time you planted something, didn't you just KNOW it would grow? .. that it would blossom into something divine? Of course you did.
DO YOU ALSO KNOW THAT GARDENING IS GOOD FOR YOU? 
Well, I am not sure that was my thinking when I started out... but I do know that I now have faith that the combination of dirt, water and sun is a magical formula that creates more than a miracle from a hard little seed. But back to my story...
I was on my own with two children (fabulous, of course) and little time for the luxury of digging any beds, much less planting anything.
Our Spring outings consisted of racing off to the greenhouse, piling lots of pots of pretty annuals into my convertible and hauling them home.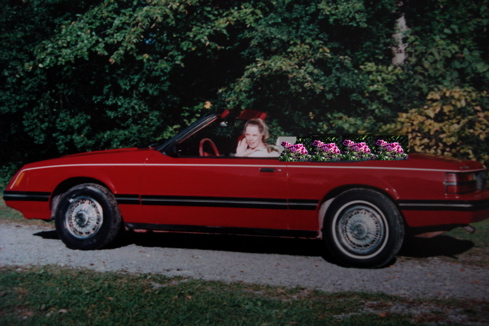 All I had to do was arrange them on the verandah or on the walkway and ...Voila.... instant lush.
CONTAINERS  are a wonderful way to have some beauty you can easily move to other locations. If you're moving from one home to another during the summer season, take them with you.. ...more instant lush.
Or, if you are entertaining,  place them where your guests will enter your home or move them to your deck. Better still, you can have a different colour scheme every year!!! If "moveable-lush" is for you, I'll give you some of my notes to help you get started.
For me, though, digging in the dirt didn't have much appeal. I wasn't that girl. Besides, I vowed when I grew up, I would have nice nails no matter what... , so getting dirt under my nails just didn't do it for me.... ugh... not very earthy, huh??
Note: By now, you may have guessed that because I have this web site, things have changed dramatically for me. Now I can even tell you names of most plants. Yay.
...But I still hate getting dirt under my fingernails...

But I solved that problem with these amazing gloves. Each Spring I treat myself to a couple of pair that come in delicious colours like soft green, lavender, light blue and peach. They have rubber-like palms and fingers with a nice cool mesh on the upper... they are thin enough that I can pick up a tiny bit, or be protected from those sharp little thorns. They are called 'MIRACLE WORKERS ' - but find some you love and buy a few pairs.
I buy at least two pair every Spring, and wash them after each use.... it gets rid of any bacteria or other stuff hiding in the soil ... besides, who wants to put on wet, dirty or gritty gloves? While one pair is drying, I have a fresh, clean pair. Besides, if an offer of a little help comes along, you can hand over a clean pair of gloves... a nice touch.
All in all, I have to say my stint with containers did change..... but now I have real flowerbeds too.
Then one da

y....
...years and hundreds of hours later, fate twisted and I found myself needing to fix my shattered life....
Just then, as "luck" would have it.....a tree fell in the already lousy-looking backyard and the cost to remove the stump, had me more than stumped. I decided to make the best of the scar in the middle of the patchy grass and make something colourful around the eyesore - the unloved stump.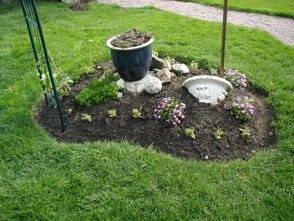 Surprisingly, my little pile of dirt blossomed (oops, no pun really intended)- into a bit of prettiness. I dug holes, moved dirt and pushed soil around - quite happily. (Isn't that what DESIGN is? who knew?) What a great and healthy way to heal the problems of life. Puts a little hope and faith back into the bigger scheme of things.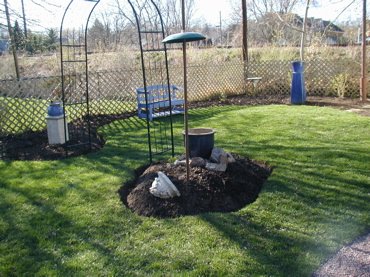 It wasn't long before I was carving curves of earth around the edges by the fence and filling them with daisies from the side of the road, daisies from the farmer's market, and wild phlox I found along the railroad track. I haunted yard and garden-club sales and started asking questions.
Of course, then... I wanted a Rose Garden. Who wouldn't? You can see how I ended up with one in another story here...ROSES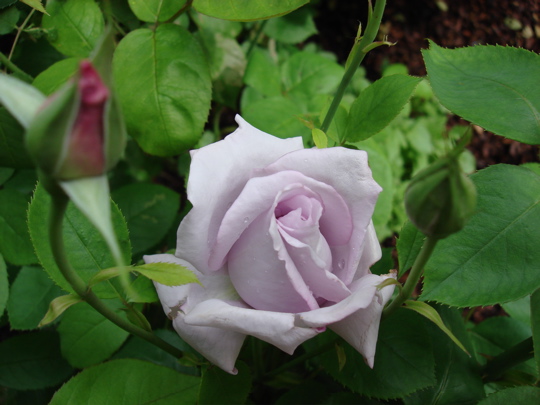 Each time I brought home more things to put in the dirt, (oops, my daughter says it is soil - but to me, it was still - dirt - ) I had to enlarge the beds.... although the grass was getting greener and more lush, it wasn't long before there was less and less to cut.
I poured heart and soul (and more than a few dollars) into my backyard-garden and in fact, I became a bit of a show off, and pretty cocky too... I loved how it all looked in its third year and it didn't take much for me to be talked into entering in our city's Communities in Bloom Garden-contest....
I came in third.... (goodie for me)... but enough crowing and back to the story.
So full of bravado in fact - in the early Spring of the next competition, I really got caught up in it all and (with some muscled help) took up all the grass at the front of my house and made it into a hosta-garden. Yowza... what a lot of work, but what an amazing look... it was stunning... and I think the judges liked it too -  I'll show you the process and give you a few do's and don'ts in my Grass-to Garden page.
By this time gardening was in my blood and flowers were all I craved... more and more of them.... and each year, the joy of choosing the colours for that summer was no longer a task.... it was thrilling and full of real joy... .. it can still be a daunting task to choose a colour scheme when the greenhouses are full of so shades of the same colour. Let me give you a few tips that work for me.
In no time at all, my life was healing and the sad and lousy yard became a lush-garden.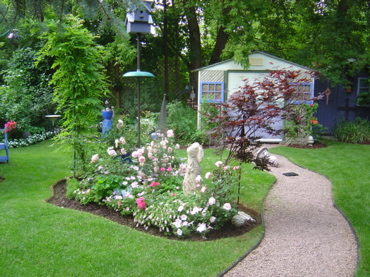 The following year when I entered the competition again - and -
  I came FIRST...ooh la la....
All this to say, if I can do it, so can you. I'll show you what I did.... the shortcuts, the successes and the failures..... and how I am learning to go hand in hand with Mother Nature and not pretend I know more than She does...humble pie is still pie and I love a good piece of pie now and then.
I'll show you how I did it.... sometimes on my own, sometimes with help... learn what works and what doesn't..... follow along with my story -
Let's pretend we are gardeners and make some flower gardens together.