Do You Need a Landscaper?
or a Gardener?
Landscaping is about changing your garden or yard and making that space fit your life.  

It includes "softscaping" (or plantings), "hardscaping" (or decks, walls and pathways) and "gardening" or maintenance, including pruning, weeding, and planting and so much more.
Answer these questions
to find out which you need.

First. what exactly do you want for your property? And why?

A small plot to grow food for your family? A serene place with flower beds to putter in?  
Or both?
A a show-stopping garden, framing your home's entrance? A stone walkway or deck? 
A water feature? Or even a pool and patio entertaining?
Perhaps a complete garden re-designed for kids, dogs and family get-togethers.
Do you have water run-off issues?  No outside tap, a steep embankment, or a decaying retaining wall?  
Do you have mobility issues and gardening is now a chore not a pleasure?
Maybe the ground is uneven and walking in your existing gardens is hazardous
Or your garden become too much for you to care for.
Is it too big? Too small?  Overgrown? 
Have your trees grown and changed the light? Your sunny garden is now in the shade.
Or  your shade tree is gone and your garden is in full sun. 
Do you spend your weekends cutting grass? or pay someone else to do it?  
Are the weeds becoming monsters that take away all desire to putter? 
Perhaps a garden rescue instead of a major overhaul?
You'll need a Landscaper to do this.....

And a Gardener to keep it this way....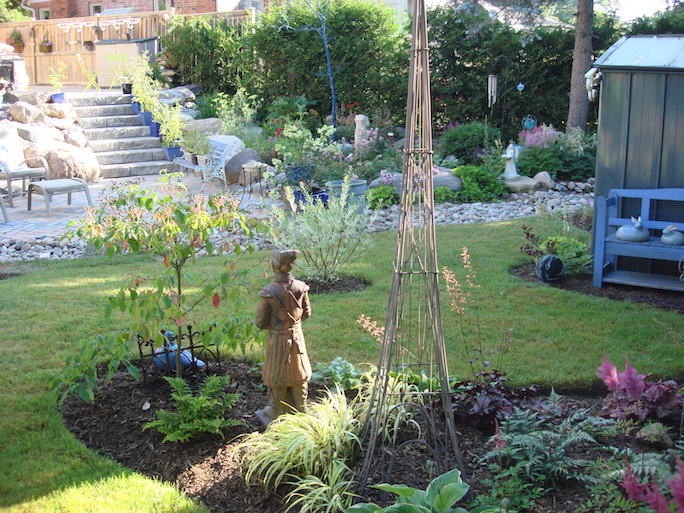 Make a detailed list of the problems you have now before you make a list of the things you wish to have and then cross-reference them. 

Sometimes by solving your problem list, you end up with your wish list. 
How much time are you willing to commit to this?
Can you help with the project but need a little help? (or a lot ?) 
Or do you want someone to do it all; from design to completion?
How much time will you have to maintain your new garden(s) when the  project is complete?
And last, but maybe most important, what is your budget?… (consider doubling any estimate because things can often change mid-project.
Yes, there are a lot of questions !  
But if you hire someone without answering them ahead of time - who charges by the hour - you'll be paying for that someone to ask you the same questions. And then it is very easy to go along with someone else's ideas before you have time to think about what you want or need.
Answer them all, as best you can.
It will save time, money, lots of false starts and costly changes along the way.
When you are fairly certain about what you want, need and the money you have available,  remember that each of the tasks requires a different set of skills. It is not always reasonable to expect one team of workers to do it all. 
Most companies are expert in one of the areas so you  may need  different professionals for your vision to become reality…and someone to pull it all together… a general contractor - or - could that be you?
Be firm about what you need and hire the right team for the job.  
But before you start looking, decide on your budget and whether you can allow a bit of wiggle room for the  unexpected, because there is always the unexpected… and stick with it.
Ask your friends or neighbours who they recommend. Stop when you see a project you like and ask the homeowners if they would refer you.
You are looking for reliability and dependability, and an overall satisfaction with the process.
The process nearly always takes longer than you think, is messier than you imagined and costs more than you planned.  Therefore, you will need to work with someone who can make the project as painless as possible; someone who listens to you, answers all  your questions; someone you feel comfortable with and trust in your personal space for what could be weeks (or heaven forbid, months) at a time.
Things change dramatically when diggers unearth the unexpected....so a mechanical digger was needed here...
But the kind of digger needed for the garden when done,  is wielded by a Gardener.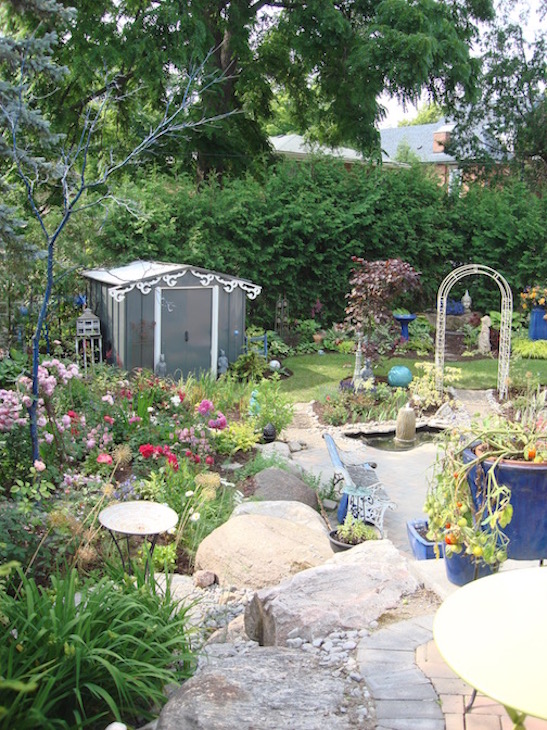 SOME DO'S....
Look for a landscaper, amenable to working with a gardener who will help you choose the right plants for the right spaces and keep the new gardens looking as wonderful as when they were planted - or better.  
Research the plants you want. Stick with those who thrive in your  zone but use the zone advice along with the particular issues of your garden space: wind, exposure, sun and poor soil.
Know your soil (See this for more on soil)  and make sure compost is included in your budget. No matter how glorious the new garden is, if the soil is not healthy, the garden won't be either. 
Know your light and zone. Gardeners are notorious for pushing the zone and planting more exotic plants that need either more light, or less frost than yours…
Don't waste money and time on plants, shrubs and trees that will not do well where you live.
Don't give pruning or landscaping to an unskilled worker.
Most landscapers are best at doing the big stuff: moving earth, removing or placing rocks and stones; or creating walkways and decks and building beds to create gardens.  So having a gardener on the team can keep the vision with regular maintenance - weeding, pruning etc.

Although  you may think weeding is an unskilled job, you need someone  who can tell a weed from a perennial.  
Not all gardeners are landscapers and not all landscapers are horticulturists, but if they are both, expect to pay more. 
Before and After.... why it is important to take photos throughout the whole project..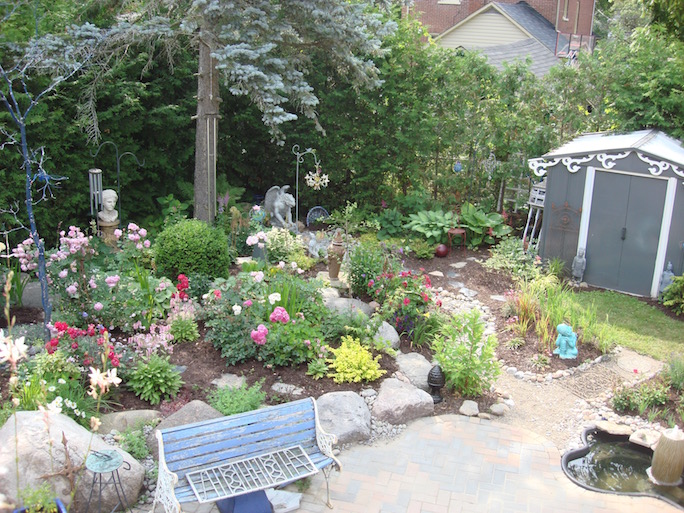 When you find someone, always ask for references and  speak with each of them.  Ask about the trust level, being on time and on budget: was the client pleased with the process and t he result.  Also ask to see photos of their work.

Ask for an estimate of both time and cost and how much flexibility they feel you might need.  Decide how far you can flex before you meet.  You might not want to disclose your budget until you hear the cost of the services you will need… but also don't choose who you hire based on the lowest price.  Some folks may bid low to get the job and then add reasonable-sounding expenses as they go along, and it adds up very quickly.  Make sure you know what you are agreeing to.
Book his or her services well in advance.  There will be others who have booked before you and if you decide to make changes along the way, and your contractor may not have the time to make them without delaying both your project and the one following. Changes can delay both projects.  
Be prepared for delays: rain, wind, heat and other unavoidable issues.  An experienced team can sometimes prevent or avoid potential problems that a less experienced team might miss.
Photograph the process from the first shovel in soil to the last daisy planted.  You will love the before and after shots when all is complete as the details along the way are often overshadowed by the constant decisions, the dirt, the noise and the length of time it takes to make your world more beautiful and functional.
Landscaping is a perfect combination of the artistic and the scientific - and needs workers who recognize and appreciate that.  Then, gardeners will keep it looking like the initial photos.

So here's the bottom line:

Be certain what you want.
Set a firm budget.
Communicate clearly and concisely.
Check references.
Get and stay involved from start to finish.
Changes are easier on paper than they are on the ground
Be comfortable with all your choices; people and plants.
Be prepared for the inevitable.
Take lots of photos - before and after.
Include garden maintenance when done.
… Love the result.
WHAT WORKED FOR ME?
I hired someone I knew and trusted.  However, knowing someone does not always make a good working relationship because it can be difficult to make your wishes heard if there is a difference of opinion. 
I was clear about what I wanted, but left the way it was done up to my landscape contractor.  When I questioned something, he was able to explain why he was doing things a certain way...and if I was adamant about something, he took that into consideration too. Sometimes I got what I wanted and sometimes he did, but in the end we both agreed with each step of the way.
I had to be flexible when his crew made other suggestions  or explained why what I wanted was not possible. 
We saved money on some things but some other things cost more than  we anticipated or planned for. 
And, although it turned out differently than the dozen sketches we started with, the end result is even better and we worked with Nature instead of against her.... taking slopes, water run-off, and other natural land issues into consideration.
It was a team effort with lots of laughter, arguing, planning, discussing, changing, flexing and working together with the same end goal.
I wouldn't change a thing. I learned a lot and would do it again in a heartbeat.... But the questions above might have saved some time and discussion in the process.
 "Garden Bliss & Blunder"
My free, monthly newsletter 
 full of neat stuff about the incredible bliss
gardening brings
- along with some of the blunders.
No obligation; no ads