My sincerest thanks to
Mark and Ben Cullen
for such a nice review
in their February newsletter about my book -
"The Little Bird Who Fell From the Sky"

It's the true story of a baby robin my children rescued and Little Bird's journey from nest - to the rest.
.. oh, did you know?
Robins hate oatmeal !
 -  and you'll never guess what he did with it?
 But...eeek....

    I'm having a few site glitches so if you would like
to order a signed copy of my book,
I will personally take care of it.

Please email:
birdieboxpress@gmail.com
$25 plus S&H

---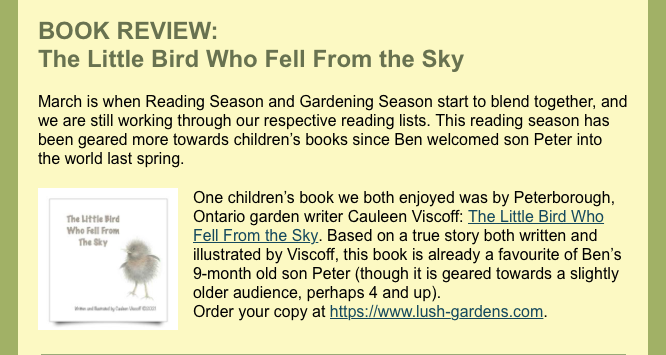 ---
I would love if you signed up for my monthly newsletter "Garden Bliss & Blunder"

I enjoy connecting with other passionate gardeners
and my monthly newsletter 
is full of neat stuff about the blunders along with
the bliss we all find in our gardens.