Roses are easy...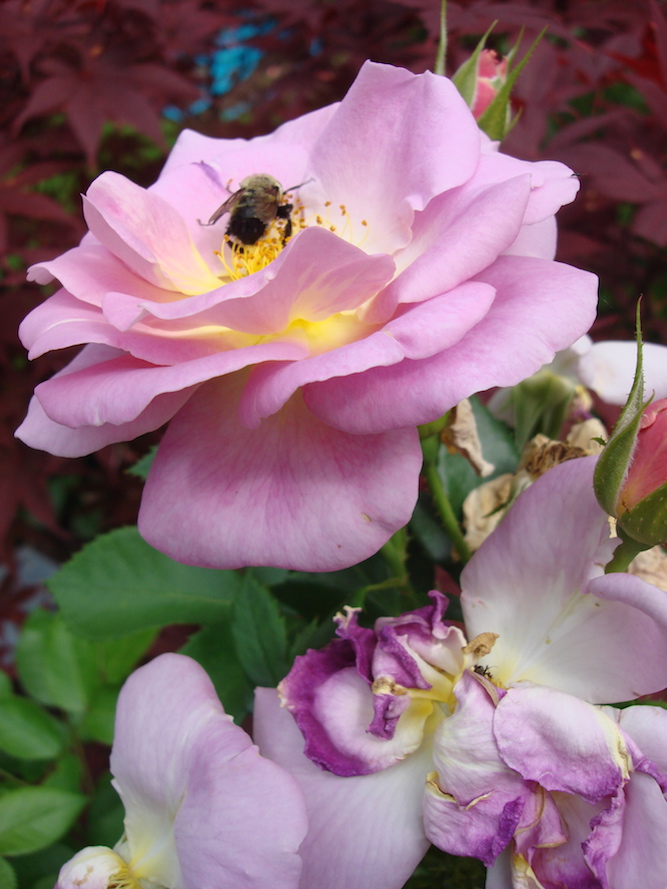 I think  Roses are the most Romantic of all flowers and having a rose garden (or rose hedge) is the ultimate in romantic beauty. But many gardeners think they're too finicky.  I used to agree, but in my experience "roses really are easy".
Here are some things I did that worked, and some that didn't. In fact, you can actually grow roses in the shade ! Yes, you can...
I've learned a lot and will share some tips, and hints about growing, feeding, pruning and overwintering roses.
---
Let's look at:
DON'T PRUNE ROSES till you read this
---
... and more...
THE FAIRY ROSE: One of my favourites: 
MOVING ROSES: What if you have to move them?
GARDEN DESIGNS...of course, you'll need a design 
---
    BUT, if you have a bit of time, here's my story..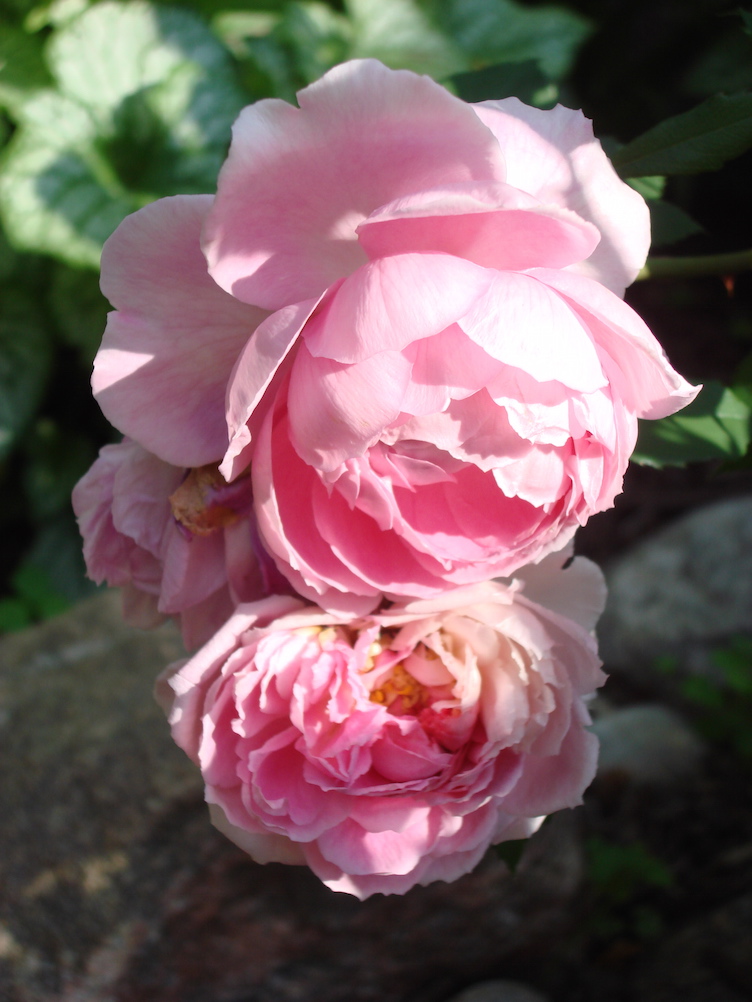 It's wonderful having lots of glorious roses in your garden; it feels a bit like having a royal title or something..look at me...

"...la de da... I have a rose garden."
I was hooked the moment my little child-nose stuffed itself inside a mass of fluffy petals.
I'm all grown up and still hooked. I want to buy every rose I see. They're my favourite flowers and I  have a whole garden of them - but it wasn't all rosy... I made some huge mistakes...
I'm a reformed rose-killer.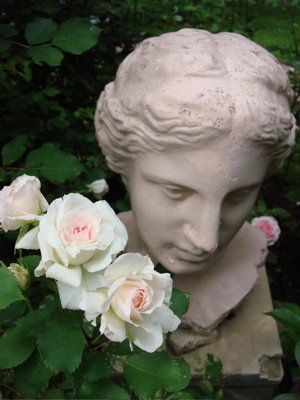 At first, I wanted a single rosebush, not a whole rose garden. I didn't know how to start, especially because I wasn't really a gardener.
It was a bleak day in February when a big old tree dropped a huge branch on my fence and then the trunk split down the middle so the poor thing had to come down.
When the tree-man said it was another $250 to take out the stump...
I bravely said, " don't bother...
I'll make a flower garden around it".
It was in the centre of the back yard with a lot of sun. I put a pot of something bright and fluffy on the old stump with a few nice rocks around it.... and then,
...plunked in my first Rose Bush.
Its leaves were green, it came in a pot and was covered with buds. It was called a "DREAM ROSE- a Rose that everyone can grow".
Except for me, apparently - because it died.... although it did bloom that year, but in a rather pouty fit, it refused to come back the next Spring. Perhaps it didn't like where or how I planted it? or the harsh winter (Zone 5b)
I've learned a lot since and want to share...
I didn't know much about planting roses or anything else but I decided to learn.
Here, early in that Spring, is my very first Rose Garden.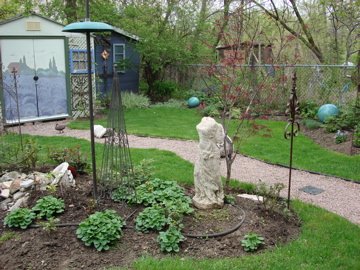 but, the next year...ooh, la la...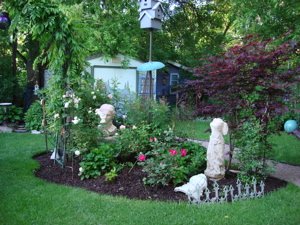 When I placed third  in my first competition, I was spurred on to enter again.  I decided to plant more roses and sought out the experts.
I drove a few miles to a rose grower where I pictured rows of potted rosebushes, ready to burst into bud, just begging me to choose.  
I was surprised when the bare little 'office' handed me a printed list, which I tentatively filled in - then waited.
Half an hour later, the receptionist came out of the back room, and in exchange for my $100 (many years ago),  placed a very large, black plastic garbage bag in my hand.  
I was confused.  Especially when I went to plant them.  10 brown, bud-less, leaf-less sticks with roots. I had never seen a bare-root rose (see planting roses in the link below). 
I placed each in a hole, with a large dose of hope and a prayer or two....and in the next competition....
                     I placed first.
(Oh, and out of those first 10 roses? I lost 8 over the next winter because I didn't know what to do with them in the fall.)
But here is how how it looked on judging day.
The bottom line is, if I can grow roses on a stump, you can grow them just about anywhere with sunshine, water, good soil and of course a large dose of faith and a smattering of hope.  
DON'T PRUNE ROSES till you read this
Keep Gardening, and sign up for my monthly newsletter "Garden Bliss & Blunder"

I love connecting with other passionate  gardeners and my monthly newsletter  is full of neat stuff about our journey past the blunders to the blissful gardens  we crave so much.