JANUARY
I'm not too sure about you, but most of the time, January can be pretty bleak - for several reasons.
First is that the hustle and celebratory nature of the holiday season is over. The tree looks sad, the wrapping paper piled and ready for the recycle bin, the presents put away, cards re-read and filed and the living room back in order. 
Sounds good, but not for me.  Tree is still up, presents still under the tree and all the green boughs still hang on the stairs, silently dropping small sprigs as we brush by.
It is hard to let it all go.
Secondly, we - well some - are making some New Year's resolutions. Trying hard to make ones we are sure we can keep but making some others that sound good if we say them out loud and some, just pie in the sky.
But mostly, January is a long month.  The nights are long, and the days, full of blustery winds, freezing rain and errands we have left too long.
But all is not lost, dear-heart... here are some things that can cheer you.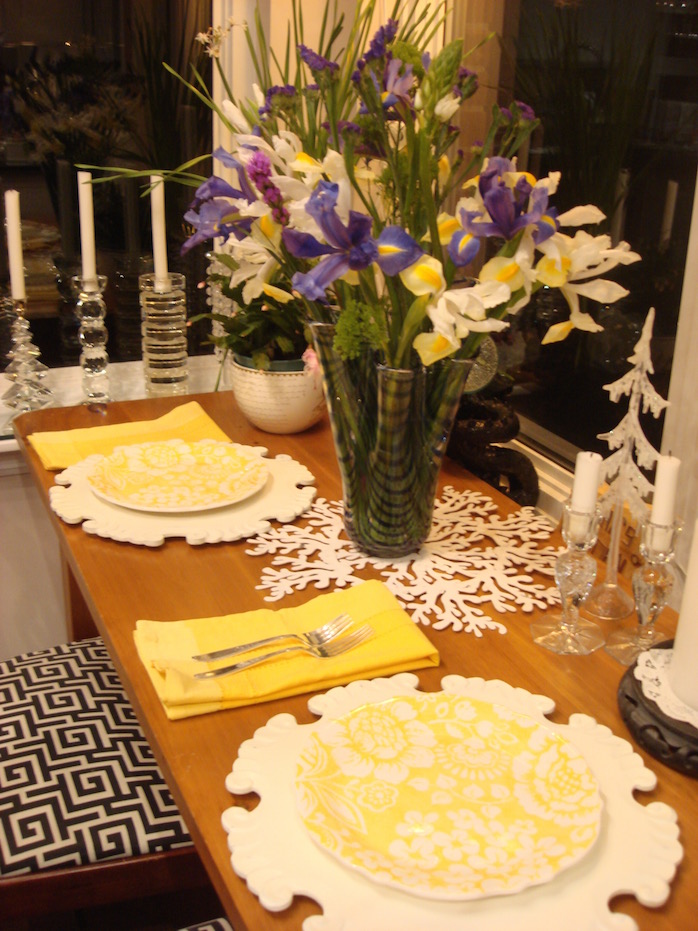 Get out your cheeriest dishes, and indulge in a bouquet of sunny flowers.  If we lived in jolly-old England, perhaps we would have snowdrops by now, but down the road from here, is a nice shop full of lovely flowers and for the price of a pound of really good coffee, you could have a whole bouquet like this.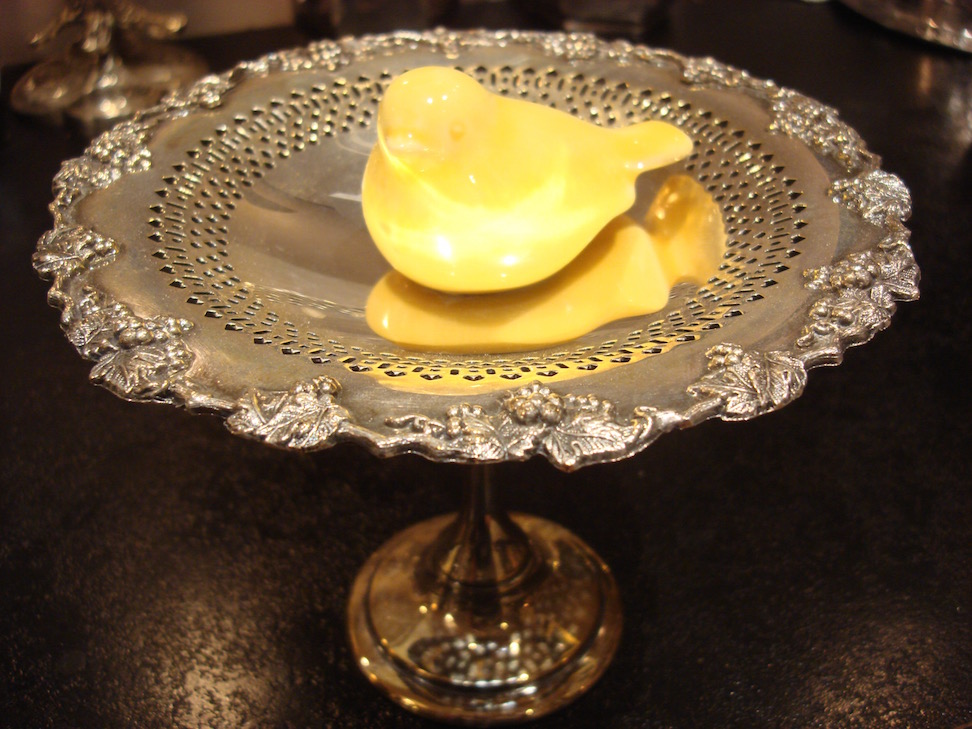 This tiny yellow bird is reflected in the silver
- how sunny on a dull day.
I changed my little white butter dish for this one, found in a wee shop in Paris some years ago, and hiding in the back of the cupboard, waiting to add more sunshine.  
Look around and see what you can find.
This wee bird below, is very old and sat on a small shelf in my parent's kitchen at the lake.  
What fond memories it brings.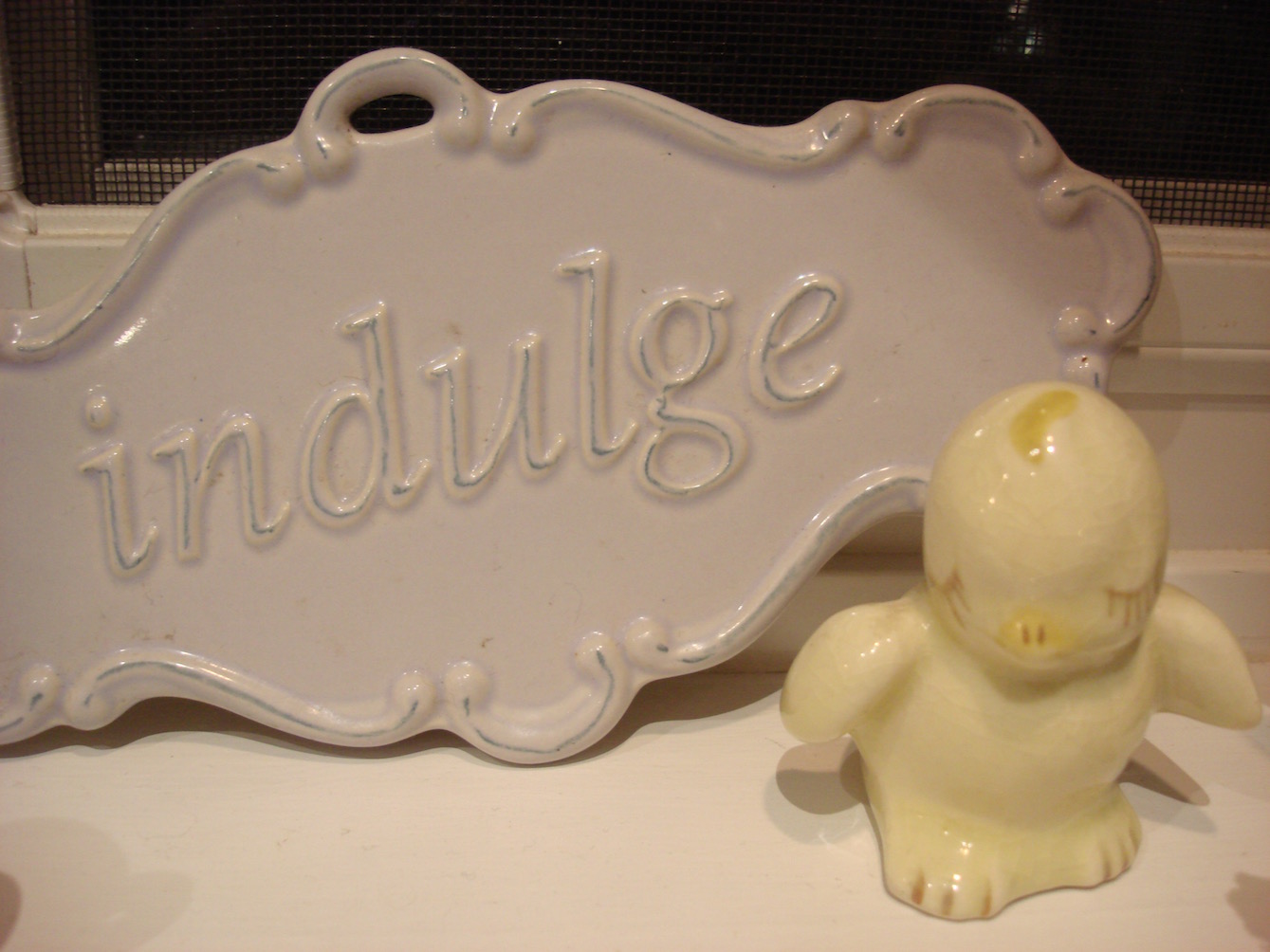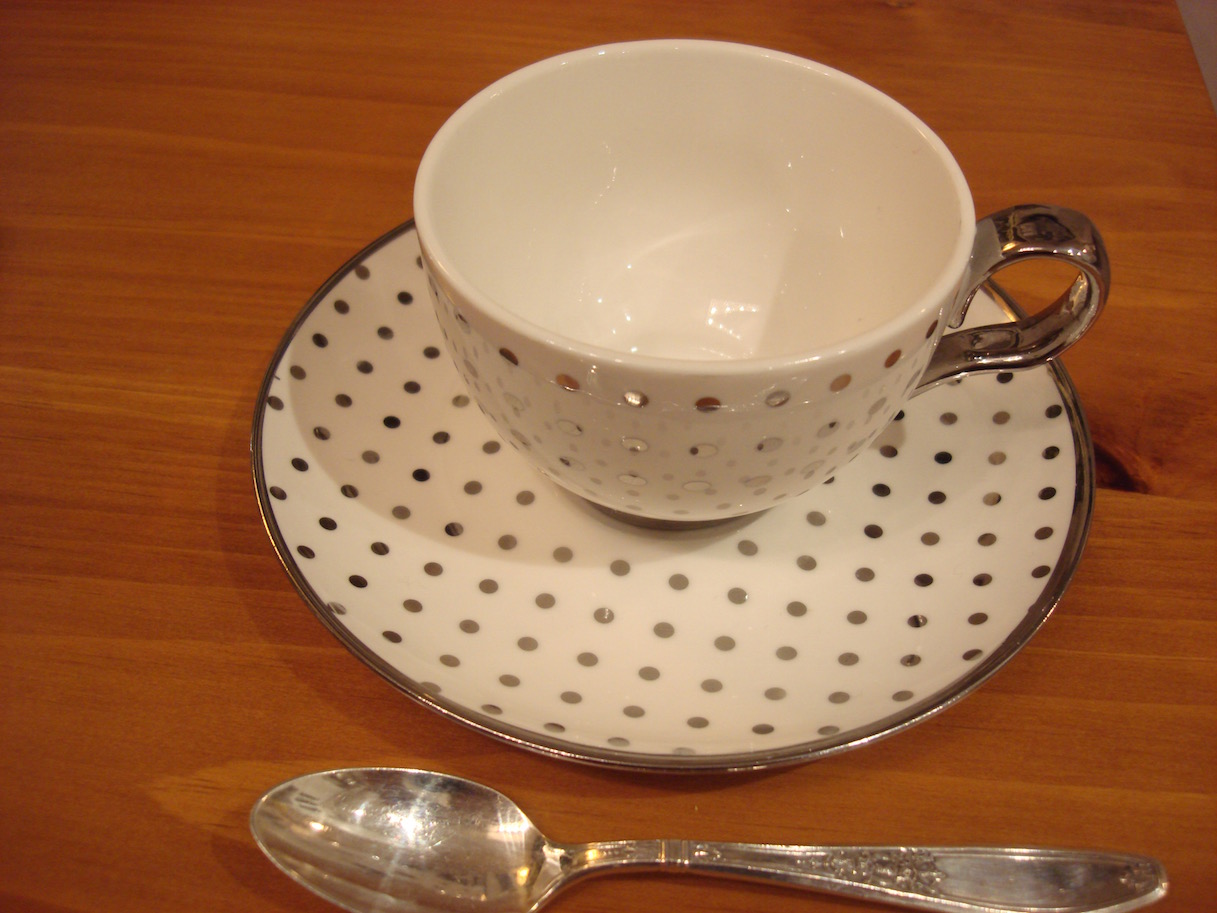 And then, find your favourite cup, make yourself a pot of tea, and think about your garden. (Have you tried Celestial Seasonings 'Bengal Tiger'? a delightful spiced tea with cloves and oranges and other comforts).
This is the time to do some garden planning... think about what worked and what didn't.
Think about any changes you would like to make and how you will make them.
I hope you have a lovely journal to keep some notes in... sure, I know most will have the latest tech object in which to keep notes, but there is still nothing like the feel of a pen on paper. 
January is the time to order your new calendar, journal and most of all, pen refills.
A few years ago, my son gave me a stunning Montblanc pen and January is the month I order my refills. Takes away the chill of short and darkening days.
   ...and when you are sure the first Robin will never come, get out your metal one and pretend.
Better still, buy a copy of my new book "The Little Bird  Who Fell From the Sky".... a very true story about a baby robin we rescued and what happened to him (it has a happy ending)
Oh,  and if you have some balmy weather as we have had here in Ontario a few weeks ago, be sure to stay off your grass - it can cause it to die back later as it compacts the tender roots.

---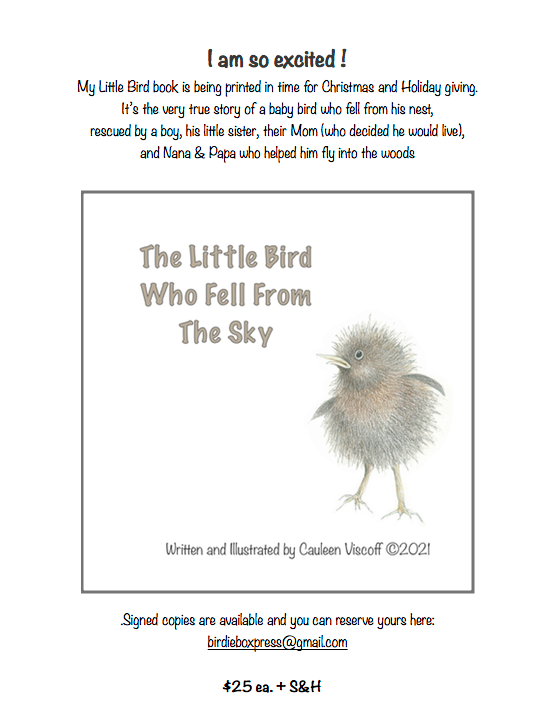 for a copy of Little Bird - email me at birdieboxpress@gmail.com
I would love if you signed up for my monthly newsletter "Garden Bliss & Blunder"

I enjoy connecting with other passionate gardeners
and my monthly newsletter 
is full of neat stuff about the blunders along with
the bliss we all find in our gardens.