COME CELEBRATE THE
140-YEAR
DUTCH-CANADIAN FRIENDSHIP
WITH TULIP GARDENS
This is about a specific bunch of bulbs, so it you are looking for how and when to plant Tulips and other bulbs - look here... but please read on before you do.
NEWS from Ottawa, ON . . . September 23, 2015 . . .
140 communities and organizations have been selected to receive a 70th Anniversary Dutch-Canadian Friendship Tulip Garden in celebration of the 70th Anniversary of the first gift of 100,000 Dutch tulips bulbs sent to Canadians in 1945 as a symbol of appreciation for the role Canadian soldiers played in the liberation of the Netherlands and the hospitality Canada provided to the Dutch Royal Family in Ottawa during WWII.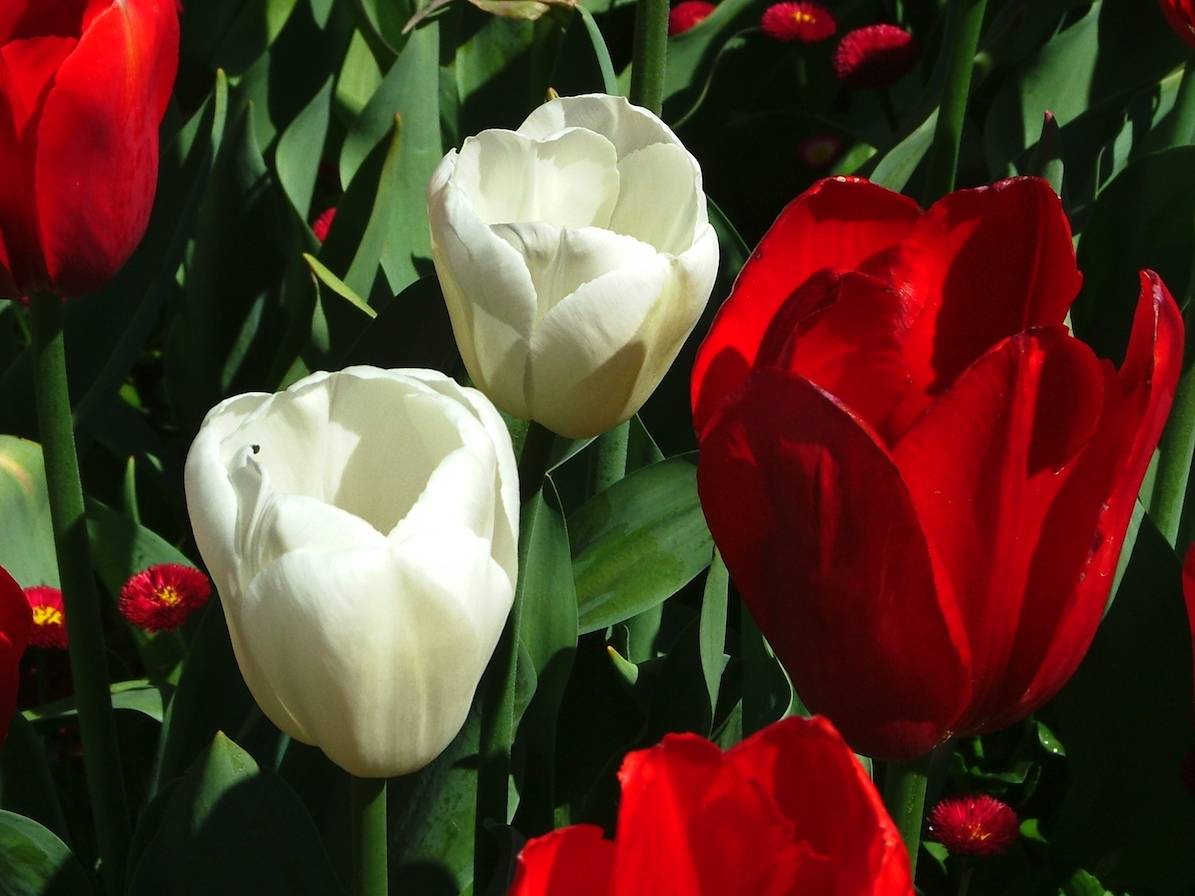 A Canadian Garden Council Initiative
Alexander Reford, President of the Canadian Garden Council said:
"Selecting successful applicants was a difficult task for our jury as we received more than 400 applications for these special gardens, more than we ever expected. Gardens play a significant role in Canadian culture and heritage and we are delighted that these Friendship Gardens, each containing 700 red and white tulips and made possible thanks to the generous contribution of Vesey's Bulbs of PEI, will be blooming across Canada in the spring of 2016." 
The 140 gardens will be symbolically linked to a 70th Anniversary Dutch-Canadian Friendship Tulip Garden consisting of 7,000 red and white tulips, also donated by Vesey's Bulbs, to be planted this fall in our nation's capital by the National Capital Commission and showcased during the 2016 Canadian Tulip Festival. All 141 gardens will also be featured on the 2016 edition of Canada's Garden Route www.canadasgardenroute.ca 
The Canadian Garden Council thanks Vesey's Bulbs for their special gift and all those that made this program possible: Canada Post, National Capital Commission, Canadian Tulip Festival, Canadian Nursery Landscape Association, Garden Making Magazine, Chimpanzee, Baxter Travel Media, Enterprise Canada, Gardens BC, Québec Gardens' Association and the Ontario Garden Tourism Coalition. 
PLEASE NOTE: our own Peterborough Horticultural Society is one of the gifted gardens.  
OUR GOAL is to:
• Celebrate the 70th Anniversary of the Dutch Royal Family's gift of 100,000 Dutch tulip bulbs to Canadians and educate why it was given to Canadians in the fall of 1945
• Highlight the role Canadians played during the Second World War – specifically, their role in liberating The Netherlands
• Highlight the birth of the Dutch Princess Margriet
• Provide an opportunity for as many Canadians as possible, from coast to coast to coast, to take part to the 70th Anniversary
• Remind ourselves that we are a friendly and hospitable nation
• Demonstrate that gardens not only contribute to our lifestyle, our well-being and our communities, they are also connected to our history and a symbol of who we are
Please visit a garden in your area, or follow their sites to see the results.
I would love if you signed up for my monthly newsletter "Garden Bliss & Blunder"

I enjoy connecting with other passionate gardeners
and my monthly newsletter 
is full of neat stuff about the blunders along with
the bliss we all find in our gardens.